My visit to the Laguna Pit Bulls Center
Posted on Saturday, 27 February 2016
Jennifer Tiu is a mom to some fantastic doggies, is an awesome cook, a talented baker, a caterer, and restaurant owner who  was deeply moved by her visit to the Laguna Pit Bulls Center of CARA Welfare Philippines. She shares her thoughts with us, below.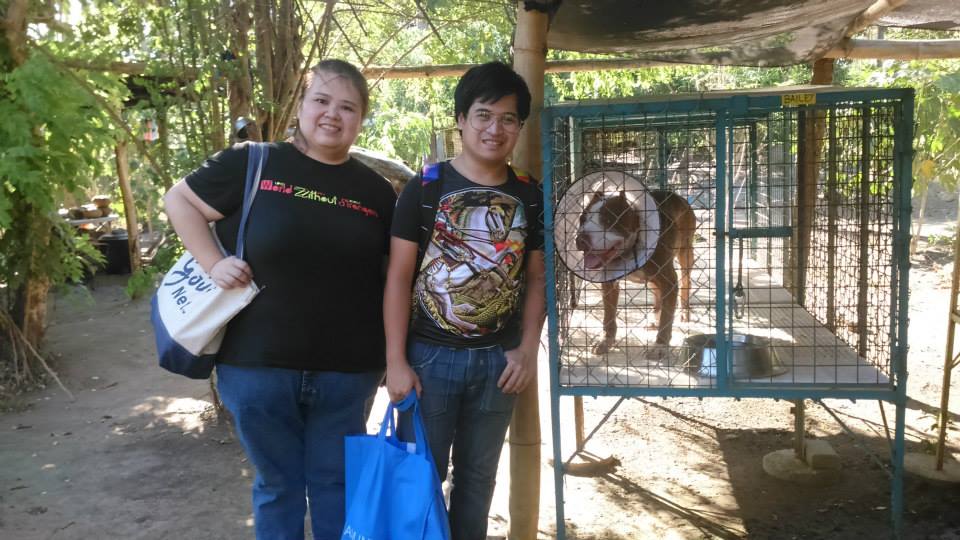 Jennifer Tiu and her brother, Jared, are greeted by Bailey at the LPB Center. (Photo by Melody de Jesus)
Everybody who knows me knows that I'm a dog lover. What most people don't know is that I'm a coward. When it comes to facing pain, I'm really bad at handling them, whether it's physical or emotional. I don't watch dog movies, even those wholesome ones with good endings. They make me cry. I know about Hachiko, but I haven't watched the movie about him, and have no plans to do it. Marley and Me? No.
With the internet comes information at our fingertips. When I see posts of dog cruelty, I hide from them. I scroll away.
I focus on positive things. I don't like bad endings, I don't watch horror movies. I always say that I have enough problems already so I want to feel good for a change.
Dogs are not for fighting
I've known about the Laguna Pit Bulls for a while now. But, being so busy, I've put off visiting them until, one day, a very good friend gave me sound advice that I deserved some "me" time and do something I really want for myself. And instead of lying in bed all day I decided that my next day off will be spent on something that means a lot to me.
On my way there, I read up on them, and felt disgusted with those Korean monsters and their local cohorts who ran the online betting for dog fighting. First thing I saw when I arrived were rows of cages. I wish they don't live in cages but, at the moment, it's better than the life they used to live. I can't imagine how people could have done that to them–some were bait dogs, others were for fighting. I saw battle scars on them. Some have lopsided faces due to nerve damage. Some have skin problems, one has cancer. This past week, one of them died. The volunteers do what they can, but with the abuse and neglect they were put through before, some are paying the price now and most of those that succumb were due to liver and kidney problems.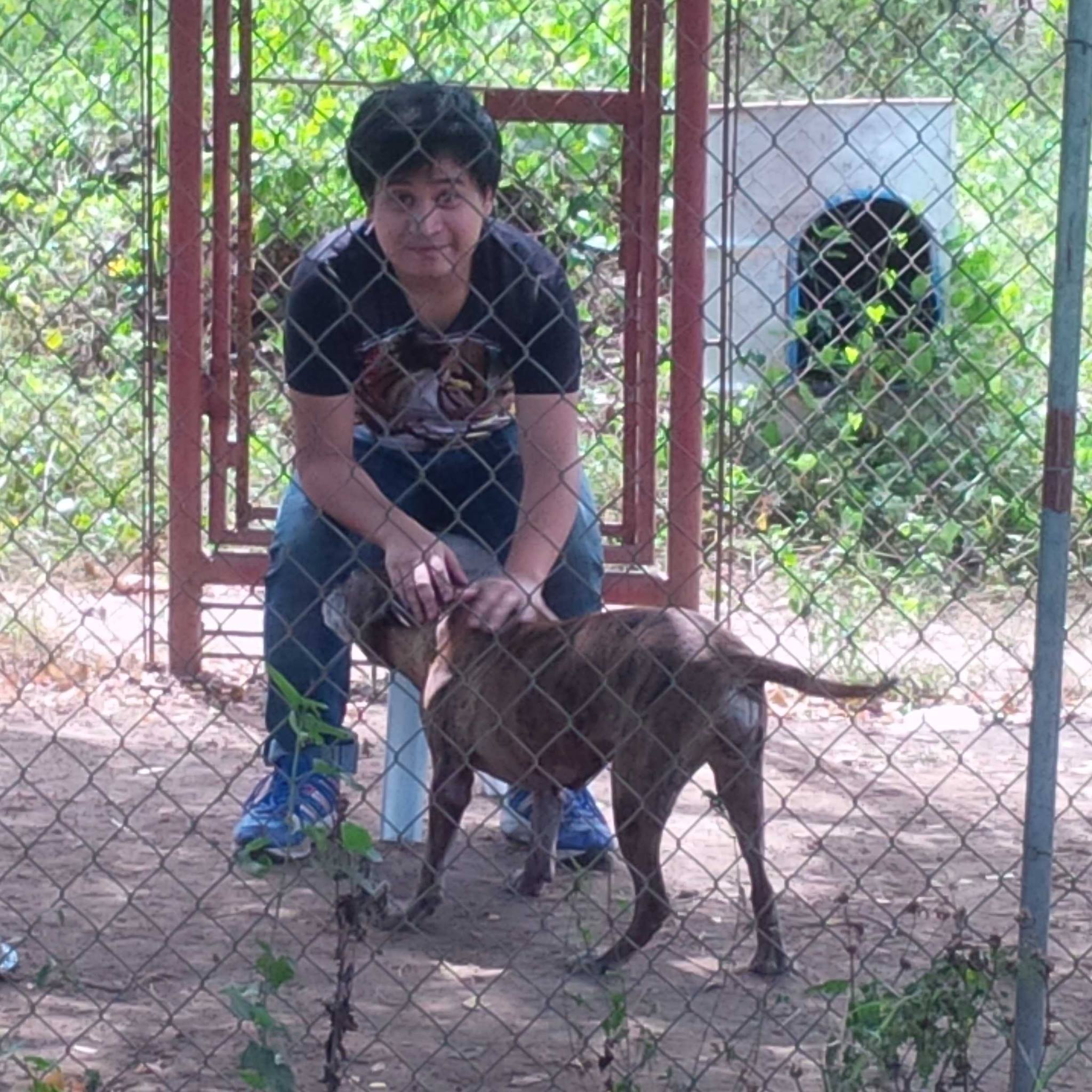 Jared Tiu spends quality time with senior LPB Pikat. (Photo by Melody de Jesus)
As I walked around the place and I couldn't help but be moved. There are more than 100 of them. The cages are clean and well-kept. They're shaded by trees and covered with tarp. I fed each of them a treat, and this is really my first time to be in a close encounter with pit bulls. I am also one of the people who heard that pit bulls are dangerous, mean, they bite and when they do, their jaws lock and won't let go. But I found that all these are not true. Seeing them up close and personal, it just confirmed what I've already known all my life about dogs – THERE ARE NO BAD DOGS, only bad owners.
Pit bulls are dogs, not killing machines. Any dog can be trained to kill. But any dog's true nature is to love their owners, to make their owners happy, and die for them if needed. Don't all dogs do that? I jumped though when I first heard them bark. They sound very maton and siga. But when I looked back at them, they just wanted more treats! Have you ever seen a pit bull smile? It will make you smile back.
Getting to know the LPBs
There are a number of them who are healthy and adoptable. I wish I could take one of them, but I already have three dogs of my own and can't afford another one. My current work schedule has me out of the house most of the time, so I won't be able to train and watch over them until they adjust.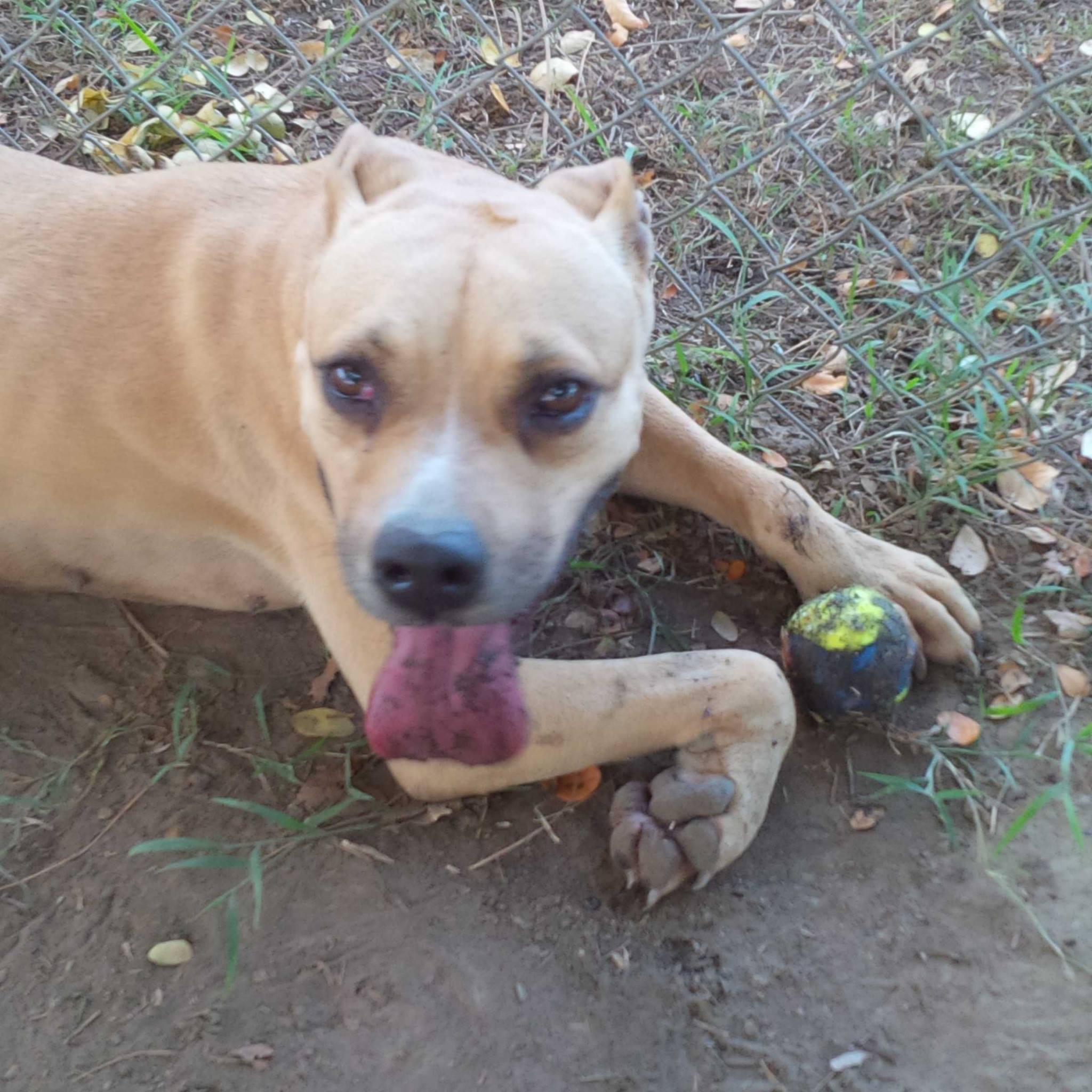 Missy taking a break from play. (Photo by Melody de Jesus)
My brother, Jared, and I were each assigned pit bulls to play with in a dog run (it's a big cage where they can run around and we can play with them). Being with them is not like in the movies where they would just come to you and nuzzle you and be all sweet. These are adults, they have their own minds. They come to you when they want to. And you respect them for it. But after a while, once they're done exploring and sniffing around, they do come to you and make friends. I felt blessed to have this experience with them. And touching them… oh boy, somehow they remind me of my dogs, Sam and Fluffy (my black lab and doggie BFF who passed away two years ago)… big bodies and firm muscles. Ashanti and Missy, the two assigned to me, were both agile and playful, especially Missy, who loves to play fetch.
Meeting the heroes
I met the volunteers, and I can only say that I felt a lot of respect and admiration for them. To me, the volunteers are heroes. They're brave, unlike me. They see the ugly side of this, and they did what had to be done. But it doesn't mean I can't do something. I still can't handle the pain, honestly.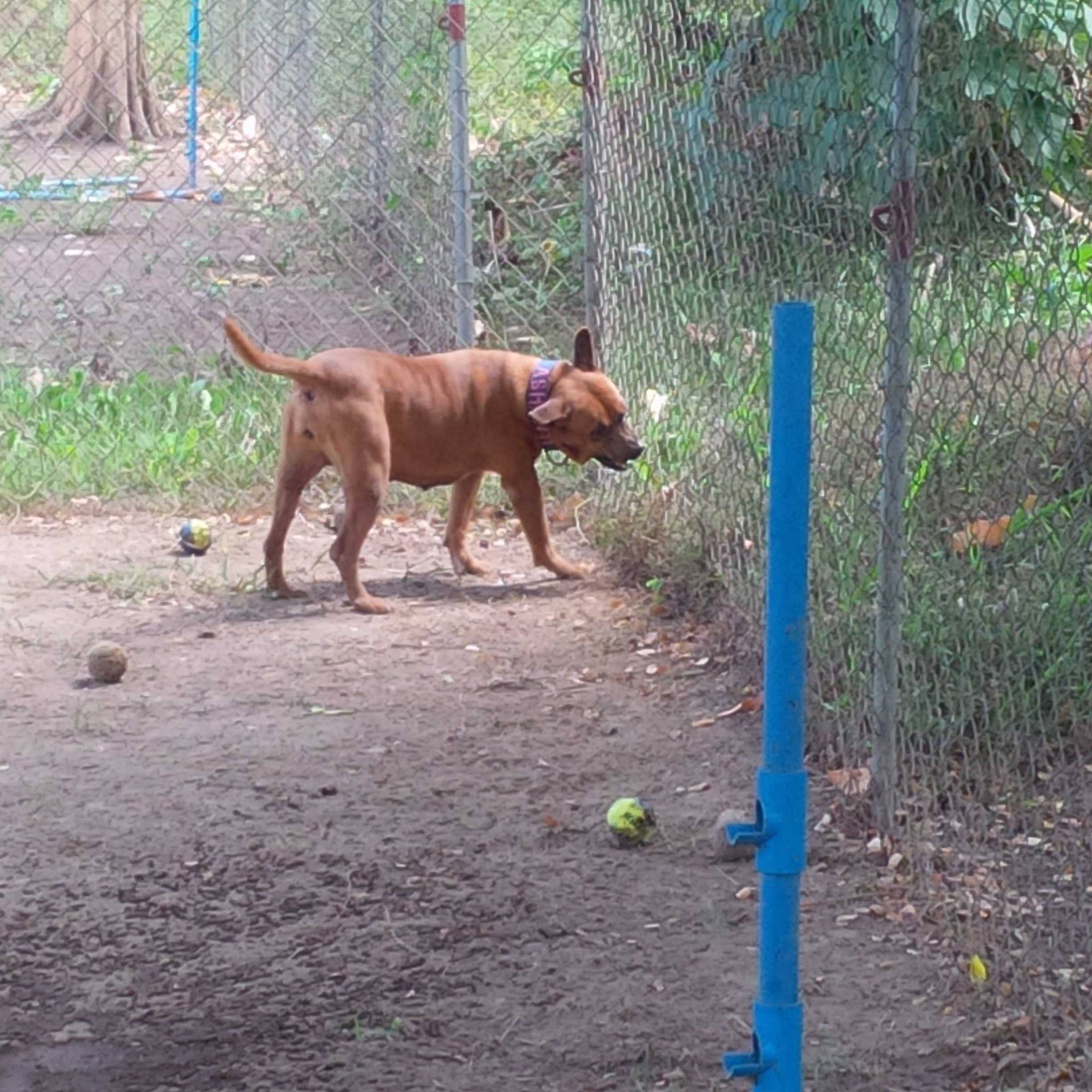 Ashanti takes her time when meeting new friends. (Photo by Melody de Jesus)
But I will help as much as I can. Even though I have meager resources, I have my skills, my brains, my friends. Somehow, I'll help. If I can only help one, that's one less pit bull they have to worry about. I plan to sponsor one of them–again, I asked them to choose for me, whoever needs it most. I can't choose, because I know all of them need help. I'm already thinking of some ways to raise funds for them. I pray that I be guided and discover ways to help the Laguna Pit bulls. And I pray that those monsters who hurt and abuse dogs will burn in hell. (Sorry but I'm really angry at them).
Lastly, I usually love taking pictures, but I was so affected by this trip that we took very few. I felt so much anger and disgust by the abusers, compassion and love for the pit bulls, and so much gratefulness to all the volunteers I met. Most of all I felt so much love for these dogs, who have gone through so much. I pray that they will never suffer again, and I hope that more people would donate and help them. And, to the volunteers, thank you for this beautiful experience. I hope to see you again soon, and in the meantime, will keep in touch. I pray that you will continue with your work and never lose the strength and heart to do so.
*republished and condensed, with permission, from Jennifer Tiu

Want to make a difference? Click one ofthe links below.
Donate | Adopt | Volunteer | Partner
For more inspiring pet stories, click here.
Want to share your own pet story? Email it to secretary@caraphil.org
Tags: ‪#‎AdoptDontShop‬, adopt a dog, adopting rescued animals, animal advocacy, Animal Advocacy in the Philippines, animal rescue blog, animal rescue group in the Philippines, Animal Rescue Group., animal welfare blog, animal welfare in the Philippines, CARA, CARAWelfare Philippines, laguna pit bull, Laguna Pit Bulls, LPB, LPB volunteers, rescued dog, rescued pet