My Day With The Laguna Pit Bulls
Posted on Tuesday, 5 April 2016
Last February 20, 2016, I joined a group of CARA volunteers to visit the Laguna Pit Bulls (LPB) Center.  I didn't know what to expect, but I knew it was time to help out in any way I can. I'm glad I signed up because this was one of the most fulfilling experiences I've had.
To give you a background, last March 2012, authorities rescued more than 260 dogs in Laguna from illegal dog fighting organized by Korean nationals with the help of some locals. By the time CARA got to the site, they found that the dogs were in poor condition, chained deep in the mud. They were living inside metal blue containers, were given no names and designated with letters and numbers instead. The cruelty is still heartbreaking.
CARA created Save the Laguna Pit Bulls, a sub-group dedicated to rehabilitating the rescued pit bulls and creating awareness on how the public can help save them. At the moment, LPB has 123 remaining pit bulls in need of loving homes. Some are ready for adoption and some are under medical care.
The Animal Squad 🙂. I am privileged to have finally found the group of people who share the same passion and advocacy – Lea Valuenzuela, Serena Coady, Pam Luber and EA Aguirre together with  senior LPB volunteers Jeff Diaz and Kueky Kue.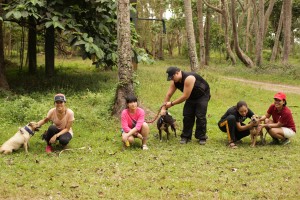 I therefore declare that LPB is my animal squad – "The Squad with a Cause" (not bad for a tagline!). Mind you, our squad is pretty big: a combination of volunteers, the LPB kuya caretakers, and 123 pit bulls. YOU can be a part of our squad too!
Falling in love with the Pit Bulls. It was my first time to have a close encounter with a pit bull. Just like other people, I had this fear of interacting with them and I was not embarrassed to admit it during my countless chats with Kueky. In fact, she was kind enough to explain the reason for the fear—it is probably because most people are afraid of things they are not well informed about. And she's right. I do not know this breed very well, much less one who has gone through a harrowing experience as these dogs have. One thing I know for sure: All dogs are the same. All dogs are loving and beautiful no matter what breed. And this visit gave me the opportunity to prove it so.
The moment our vehicle entered the gate, we were welcomed by happy and loud barks of an excited crowd of 123 dogs. It felt as if we have known each other for a long time. I waved at them and I knew they waved back at me in their own special way. Oh, I know you can imagine that. It was a great day.
We started with a tour of the center by Jeff and Kueky while giving the dogs yummy treats. We met Jade, Pamela, Banana, Mona Lisa, Amber, Kim, Joy, etc. I was pleasantly surprised to discover how warm and sweet they are; so classy and behaved. They are muscular in build, but gentle at heart, all bundled with excitement.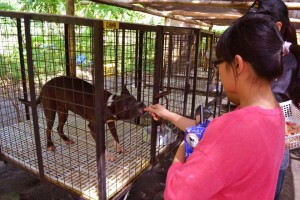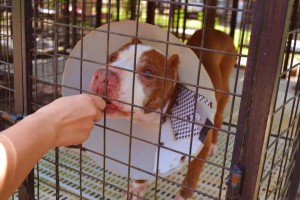 How is it possible for dogs, who were previously thrown into a ring and forced to fight against one another in order to save their own lives, be so friendly to humans? Does that mean pit bulls are more good-natured than us? This must tell us something. My fellow earthlings, let's give this one a thought.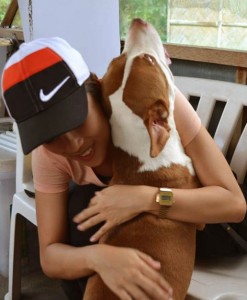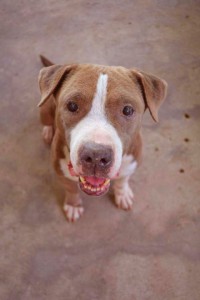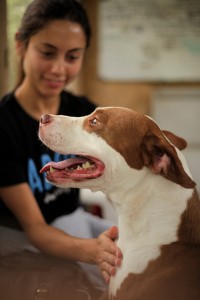 Time for a stroll with the "little giants". After lunch, we proceeded with the best part of the visit: taking some of the dogs for a walk.
I've not walked a dog that is not mine.  As silly as that may sound to you, this is extra special to me. Unlike other dogs, the LPBs don't get to go out often–the kuyas do their best in giving each LPB their time outside but they can only do so much. Strolling with the LPBs is a big deal to them; this is something they look forward to. If some of us hate walking, they love it (except for the cute one on the leftmost photo, below, who seems to enjoy being carried by Jeff).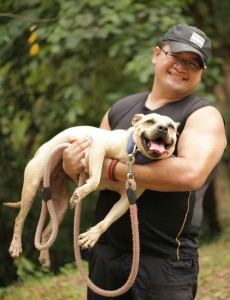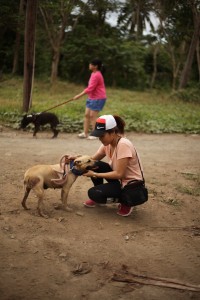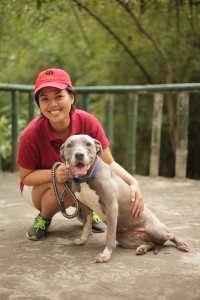 So, what have I learned from this visit? Contrary to popular belief, pit bulls are not dangerous and definitely not vicious. However, if you treat them,  or any animal for that matter, with disrespect or use them for unimaginable inhumane entertainment… now that is a different scenario. Anybody will react differently to that. I can personally attest to this.
The last thing they need is to be stereotyped or labeled as killer dogs because they're the exact opposite what people perceived them to be. We have a better judgment on what real love and loyalty look like and I know dogs can share these with us to the best of their abilities, only if we give them the chance. I hope the public can be more open to understanding what the LPBs went through before they were rescued.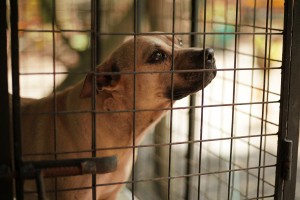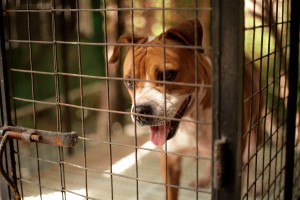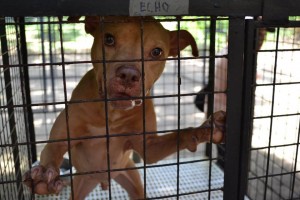 This is what's happening: While some are ready for adoption, some are going through the process of rehabilitation due to the poor condition brought about by their previous predicament, while a few others have already passed over the rainbow skies.
The LPB volunteers and caretakers of CARA are working their hardest in keeping the dogs in good health and raising funds for the maintenance of the sanctuary. We can help them save lives. We can help them Save the Laguna Pit Bulls. How?
To know the adoption requirements, please visit http://helpsavethepitbulls.com/adopt-sponsor/adopt-a-pit-bull/.
If you would like to extend help through donations or sponsorship, you may visit http://helpsavethepitbulls.com/donate/donate-now/.
Interested in becoming a volunteer or help in direct animal care? Please send an email to at volunteeratlpb@gmail.com.
Photos taken by Lea Valenzuela and EA Aguirre.
Want to help? Adopt or foster a rescued pet? Wish to donate? Please click these links:
Want to share your own pet story? Email it to <secretary@caraphil.org>
Tags: adopt don't shop, adopting rescued animals, animal advocacy, Animal Advocacy in the Philippines, help save lives, help save the laguna pit bulls, Laguna Pit Bulls