The LPB Center: My First Encounter with the Laguna Pit Bulls
Posted on Friday, 10 June 2016
Diving off a cliff, learning a foreign language, even watching your favourite band could be part of your bucket list. Well, volunteering in an animal shelter has always been on mine. A couple of weeks ago, I was given the opportunity to join a small group of volunteers for the Laguna Pit Bulls (LPB). I never really knew what I was getting myself into. The only experience I've had with dogs is with my pug. Suffice to say, my pug was definitely not as active, playful, and heavy as a pit bull. All I had to reassure me that I wasn't making a complete fool of myself was my love for dogs. At this point, you can imagine the flurry of mixed emotions pestering me the night before the LPB trip.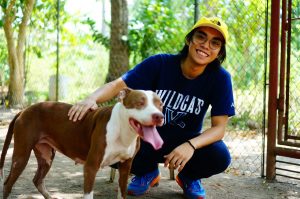 New volunteer, Marco Yambot takes a quick photo-op with LPB-Ensay.
Once I heard the chorus of excited barking, I knew we had arrived. Seeing hundreds of pit bulls is quite a sight. But to see them begging for affection makes it all the more overwhelming. We went around the LPB Center, feeding slices of apples and papaya to the dogs. While doing so, I saw that each of them responded differently. Some were playful. Some merely stood still. Unfortunately, there were a few who did not seem to be comfortable around others. It is truly heartbreaking to see how some of these dogs still continue to suffer from the cruelties inflicted by the savages that used them for sport. To those who mistreated them, these dogs were mere play things. These innocent pit bulls were abused to become violent animals relying on their survival instincts. What's worse is that some of them may never get past the trauma. Upsetting as it was, my day was just beginning.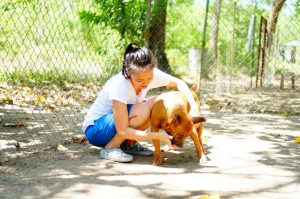 New volunteer, Justine Marco playing with LPB-Geisha.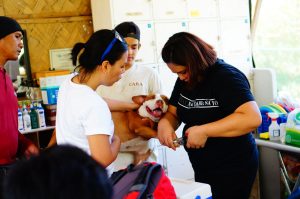 LPB-Pamela enjoying her "manicure-pedicure" time. 🙂
After lunch, I was able to bond with seven or eight pit bulls, separately. Each dog responded differently to open interaction. A few of them were shy, while some were too playful. I could also recall one or two being absolute snobs. Needless to say, I was in a much better mood. Two hours felt like two minutes. I realized that these pit bulls had a home here, and I wanted to be a part of it. Unfortunately, my day with the most lovable bunch of pit bulls was coming to its conclusion. Leaving the LPB Center, I knew that it wasn't going to be the last time that I would be seeing Chili, Mosley, Ensay, Coby, Monalisa, and the rest of the LPB gang. I submitted my volunteer form the next day and committed to helping out the Laguna Pit bulls from now on.
The violence cannot be undone but it does not mean that we cannot give them the safe and comfortable lives they deserve. Visit www.helpsavethepitbulls.com for more information on the LPBs.
Words by Marco Yambot. Images by Aaron Blanco.
About the contributor:  Marco believes in the advocacy of helping, not only of man's best friend, but animals all the same. He loves the outdoors but doesn't mind occasionally staying in with a book on his hands and his pug on his lap. He writes when he can, but most of his time is spent as a Humanities Major in the University of Asia and the Pacific.
Want to help? Adopt or foster a rescued pet? Wish to donate? Please click these links:
For more inspiring pet stories, click here.
Want to share your own pet rescue or adoption story? Email it to <secretary@caraphil.org>
Tags: adopt don't shop, adopting rescued animals, animal advocacy, Animal Advocacy in the Philippines, help save lives, help save the laguna pit bulls, Laguna Pit Bulls