Fundraising for Cassius
Posted on Tuesday, 9 August 2016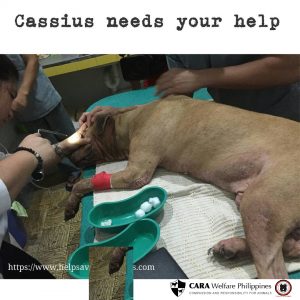 Laguna Pit Bull, Cassius needs your help. The vet said he is anemic and slightly dehydrated. He may have had a history of stroke and distemper. He is very weak and needs medication. We prefer that he will be fostered. If anyone is interested, please PM us or send email to adopt.a.lpb@gmail.com.

We also need your help with the vet bills as we continue to medically treat our beloved Pit bulls. Any amount would be a big help. You may deposit to:

BPI account: 3121-1984-86
Or
Please email bank receipt to donate@caraphil.org with subject: Donation for CASSIUS, for accounting purposes.

Thank you so much for your support.
Reported by Stephanie Lim. Posted by Steph Bravo.
Tags: foster a dog, Fundraising, help save the laguna pit bulls, Laguna Pit Bulls