CARA Dog Luna is in Need of a Funding
Posted on Tuesday, 20 December 2016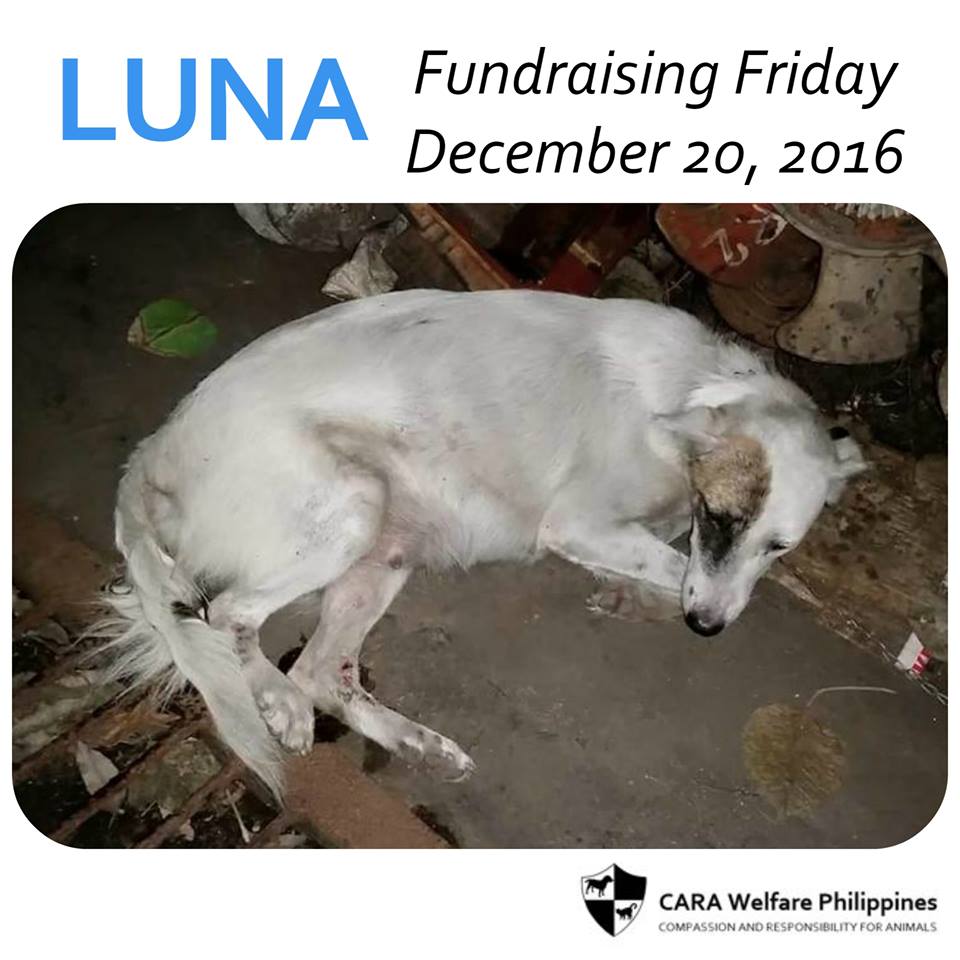 We're doing Fundraising Friday early this week to avoid the holiday rush.
Luna is a pregnant dog owned by the caretakers of a parking lot in Binondo. One day, she got hit by a car and was unable to walk for two days.
She was rescued by CARA. Unfortunately, her babies did not make it. Luna had to have surgery to remove the dead pups to save her life. She also has several fractures that our vet believes will heal with time.
Luna still has a long way to go as she can only stand for a few seconds at a time. Will you help us help Luna? Please donate and share this post.
Happy Holidays, everyone!
****
Donations may be made via PayPal and BPI bank deposit.
Via Paypal:
1. Go to: http://www.caraphil.org/mainsite/get-involved/donate
2. Click on "Donate."
3. Follow the instructions. When asked to review the
donation, click on "Add special instructions to CARA" and
write the name "LUNA"
4. E-mail the confirmation receipt to donate@caraphil.org
with subject "LUNA".
Via BPI:
Cash deposits may be made to the following account:
CARA Welfare Philippines
BPI Current Account # 3191-0467-05
Please do not forget to email the confirmation receipt
(PayPal) or a photo of the deposit slip (BPI) to
donate@caraphil.org with the subject "LUNA".
The PayPal and BPI are all CARA's. We only need you to
send in your receipts/deposit slip to our Treasurer for
accounting purposes.
Reposted by Angelina Fajardo
---
If you can't adopt, foster.
If you can't foster, donate.
If you can't donate, volunteer.
If you can't volunteer, spread the word.
You can help.
Tags: ‪#‎AdoptDontShop‬, Animal Advocacy in the Philippines, animal rescue in the Philippines, CARA Welfare Philippines, CARADogLuna, compassion to animals, FundraisingFriday, how to support animal welfare in the Philippines