Wonder Woman Screening: How To Pay
Posted on Friday, 5 May 2017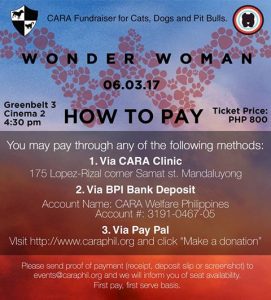 Join us in our fundraiser for the animals in need! Reserve your tickets by paying thru the following methods:
1. Via the CARA clinic: 175 Lopez-Rizal corner Samat street, Mandaluyong
2. Via BPI Bank deposit:
Acct. name: CARA Welfare Philippines
Acct. number: 3191-0467-05
3. Via Paypal: http://www.caraphil.org/mainsite/get-involved/donate
Please send proof of payment (receipt, screenshot or deposit slip) to events@caraphil.org and we will inform you of seat availability.
First pay, first serve so get your tickets now!
🙂
Want to help? Adopt or foster a rescued pet? Wish to donate? Please click these links:
Reported by Stephanie Lim. Posted by Alexandra Bichara.
Tags: CARA, CARAwelfareph, LPB, moviefundraiser, wonderwoman