Notice to the public: As of April 2018, CARA is still looking for a full time resident veterinarian. That said, our clinic is not open for consultations until further notice. Thank you!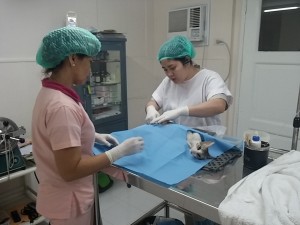 CLINIC HOURS
Surgeries and consultations are done on Mondays to Saturdays.
Monday to Friday : 8:00 am to 5:00 pm
Saturday : 8:00 am – 12:00 nn
Sunday: NO CLINIC
Please call to make an appointment: 02-532-3340 or 0919-5790047
CLINIC RATES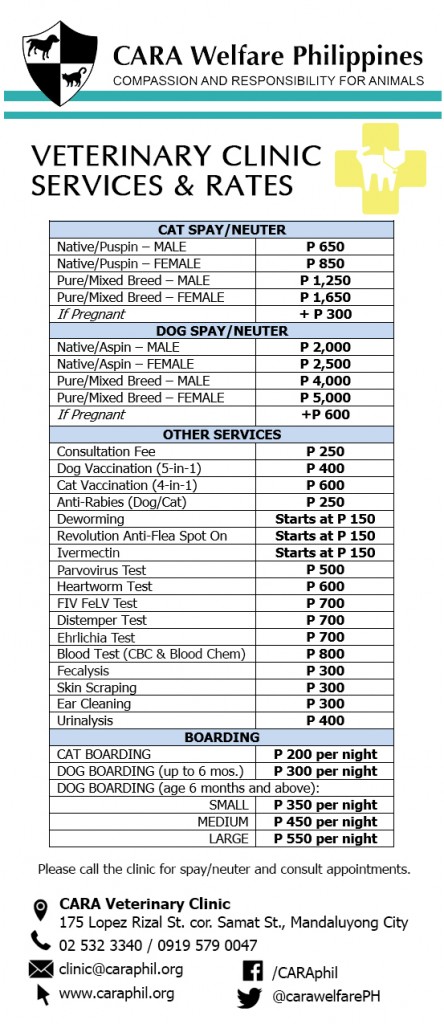 *All spay and neuter operations include complimentary ear cleaning and nail trimming.
*Does not include the pre-anesthetic blood test 
SPAYING/NEUTERING
Spaying and neutering carries the risks normally associated with general anesthesia and surgery. Although the spay surgery is very routine, it is still a major abdominal operation for the females. Therefore the cat or dog must be healthy, well fed and with no signs of illness.
The application form can be downloaded here: CARA Spay & Neuter Application
Please also read the following to prepare for the operation: Pre & Post Operative Care