Is there a place in your heart and space in your home for one of our delightful rescued pets?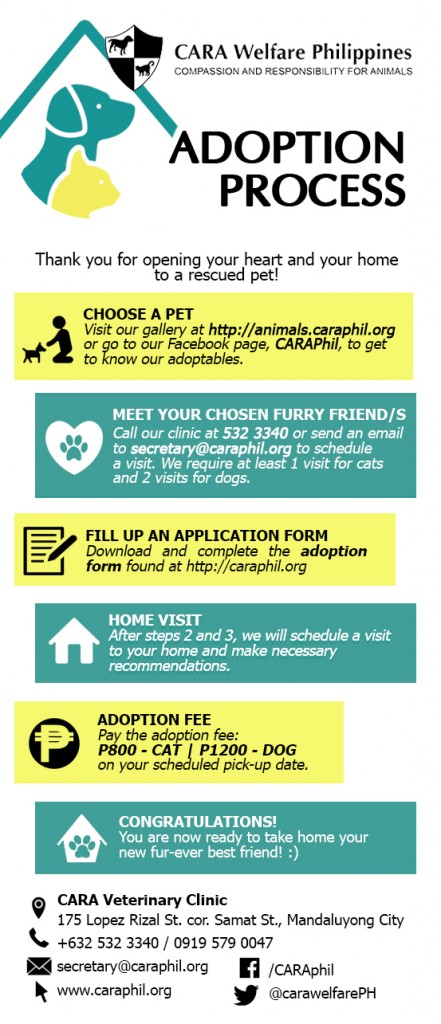 Please read our adoption polices carefully. We want to ensure our rescued animals go to a loving and safe environment. If you are 100% sure you are ready to be a pet owner and can meet our adoption requirements, please read on.
Select an animal/s from the CARA Animals Database "Adopt Me" album or visit our Facebook page.
Visit the CARA clinic in Mandaluyong to meet our adoptables. We require at least 1 visit for cats and 2 visits for dogs.
Download the CARA Adoption Form.
Email the completed adoption form to adoption@caraphil.org.
After we have gone over your application, we will schedule a home visit for you with one of our volunteers to ensure that your home environment is safe for our rescue/s and to make the necessary recommendations.
Once approved, you may come and pick up the animal/s and pay the adoption fee (PHP800/cat; PHP1,200/dog).
We will make at least one follow up visit to ensure that everybody is happy. CARA reserves the right to refuse adoption to any individual who we feel is not suitable.
Please take the time to read the following:
Why Adopt a Pet rather than Buy?
5 Factors to Consider Before Adopting a Pet
5 Reasons for Adopting an Older Cat
Health Benefits of Having Pets