Fundraising Friday: PAG-ASA
Posted on Friday, 10 October 2014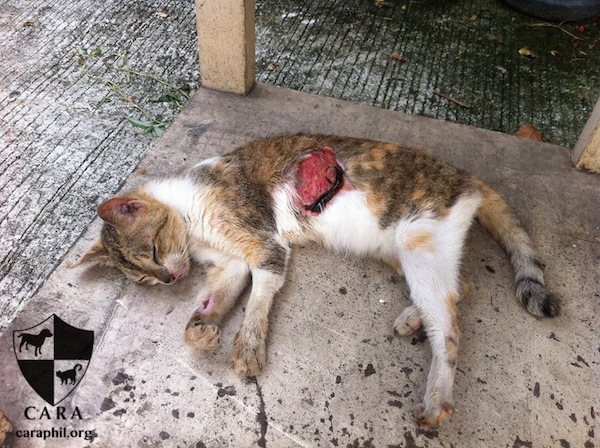 This sweet cat was lying weak and helpless by the side of the road when she was spotted by a CARA volunteer. We are not sure what happened to her exactly but she is badly injured with her skin ripped off. Her injuries indicate that she must have been run over by a vehicle, then left alone with a gaping wound that was already starting to rot. We cannot imagine the pain this brave cat had to endure.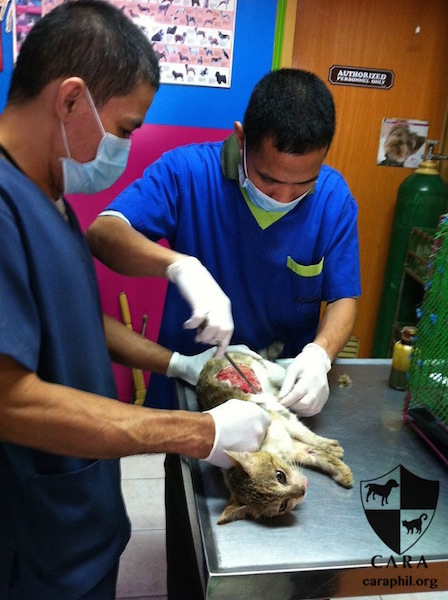 The volunteer immediately rescued the cat who is now at the CARA Clinic. He named her PAG-ASA , which means "hope" — something we must cling to at this point. Pag-asa may be in for the long haul, the healing process is likely to take months. The lovely cat can hardly walk but she can stand up and eat her food. She is also grooming herself, which we take to be a good sign. Another CARA volunteer has kindly offered to foster Pag-asa when she is well enough.
Will you help us save Pag-asa? When her photos were shared on Facebook a few days ago, we already received donations but her daily treatment will be expensive and will take some time. We are hoping you will help us raise more funds for her. Donations in any amount will be much appreciated. To donate to Pag-asa's medical fund, please see below. Thank you very much!
*****
Donations may be made via PayPal, BPI cash deposit, and GCash.
Via Paypal:
1. Go to: http://www.caraphil.org/mainsite/get-involved/donate/
2. Click on "Donate."
3. Follow the instructions. When asked to review the donation, click on "Add special instructions to CARA" and write "PAG-ASA".
4. E-mail the confirmation receipt to donate@caraphil.org with subject "PAG-ASA".
Via BPI:
Cash deposits may be made to the following account:
CARA Welfare Philippines
BPI Current Account # 3191-0467-05
Please don't forget to e-mail a photo of the deposit slip to donate@caraphil.org with subject "PAG-ASA".
Via GCash:
Our GCash No. is 0915-227-0215.
You may refer to Globe's guide on how to use G-Cash here:http://bit.ly/19lAto1 and here: http://bit.ly/19lAwjD
For purposes of crosschecking your GCash donations, please email in your cellphone number and the amount you donated via G-Cash to donate@caraphil.org with subject "PAG-ASA". Pls. be assured that we value your privacy and after crosschecking is done, we will not keep a record of your numbers.
Please do not forget to email the confirmation receipt (PayPal) or a photo of the deposit slip (BPI) or your cell # & amount donated (GCash) to donate@caraphil.org with the subject "PAG-ASA".
The PayPal, BPI and GCash accounts are all CARA's. We only need you to send in your receipts/deposit slip/cellphone number to our Treasurer for accounting purposes.
Thank you very much!
Tags: animal rescue in the Philippines, animal welfare in the Philippines, Fundraising Friday, how to help animals in the Philippines, how to support animal welfare in the Philippines, rescued cat