Oreo has new wheels
Posted on Thursday, 23 October 2014
Wonderful things happen when animal welfare groups work together to rescue an injured stray like OREO. CARA rescued the dog in Manila last May. Oreo had deformed hind legs and a curved spine, most probably from a vehicular accident. He could walk but only with much difficulty. His injuries were already old and his condition permanent. We were worried that he would be a very difficult one to adopt out.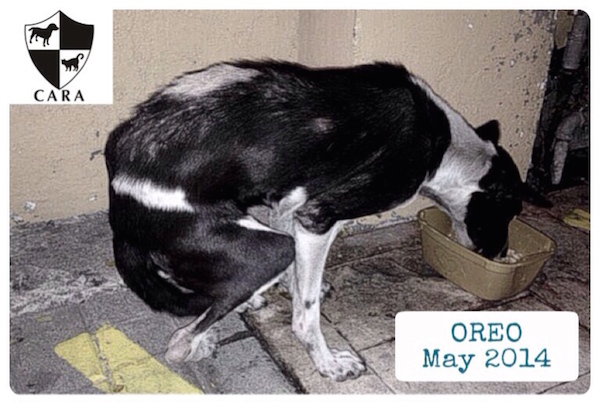 As they have done in the past, our friends at Aklan Animal Rescue & Rehabilitation Center (Philippines) or AARRC stepped up and agreed to take in the injured dog once he'd grown healthier. With your help, Oreo was rid of the usual minor ailments associated with street dogs and within a few months, he was off to Aklan, along with another CARA rescue, Qiana.
AARRC recently posted a new photo of Oreo — with his new wheelchair!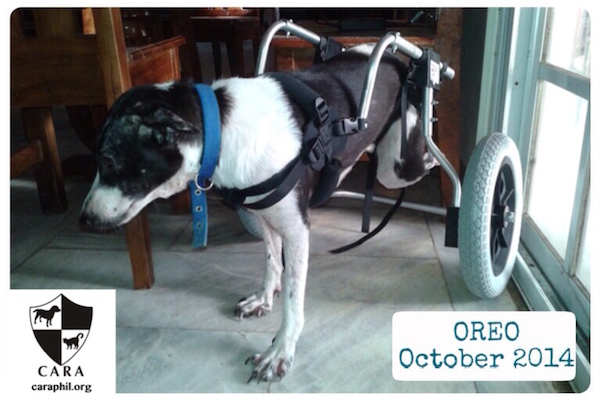 Oreo has new wheels!
He's been practicing a few hours each day on his new "hind legs" and pretty soon he'll be wheeling about with his fellow rescues and playing on the beaches of Aklan! This boy is leading the good life now, a far cry from his days as a half-paralyzed dog scavenging on city streets.
We cannot thank AARRC (and you, our dear donors) enough for helping us give Oreo a new lease on life. Maraming salamat po!
***
Thank you for reading this post! If you would like to help CARA save more animals like Oreo, please consider donating, adopting, fostering, sponsoring a rescue, or volunteering. (Please click the links for details.)
Tags: Animal Advocacy in the Philippines, animal rescue in the Philippines, compassion to animals, how to support animal welfare in the Philippines, rescued dog, Throwback Thursday