Fundraising Friday: VERDE
Posted on Friday, 14 November 2014
All it takes is compassion, and the will to do something. The cat would have been just another homeless, nameless victim of hit-&-run, a lifeless lump ready to be scooped up and dumped with road garbage. Instead, VERDE got lucky, thanks to a CARA volunteer who took a chance at saving him.
Verde was hit by a vehicle several days ago near Valle Verde in Pasig. For the next 2 or 3 days, he lay beside a concrete barrier in the middle of the road, too injured to move. His jaw was broken, and the impact had caused his eyeballs to pop out. They bled out, turned into hematoma, and started to fester.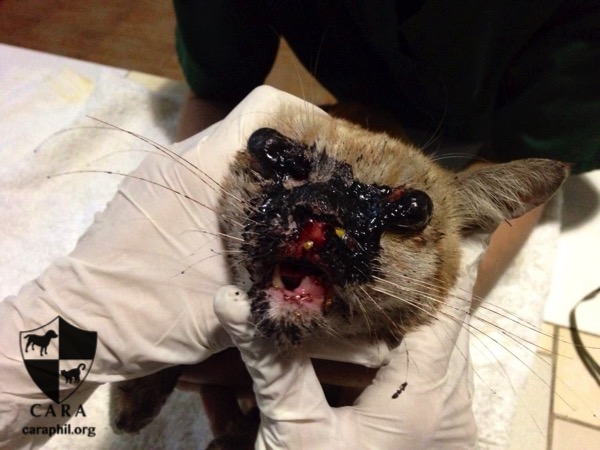 A CARA volunteer was passing by when she spotted Verde. She thought he was dead and was about to drive on when she saw him move! She turned her car around and walked into traffic to get him. She saw the horrible shape that Verde was in and realized that there was only a very slim chance that he could be saved, but with the help of the village guards, she put him in a box and took him to our partner vet anyway.
The truth is, none of us thought Verde would make it. We did not count on how much fight was left in this cat, but fight for his life he did! The vets at Pet Project was able to wire his jaw, and last Monday Verde started eating!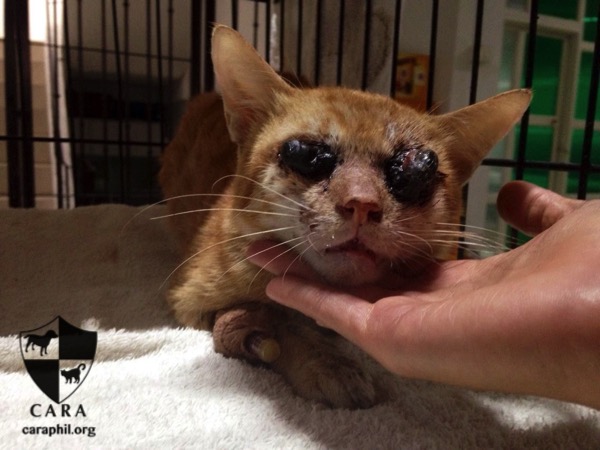 Yesterday, Verde underwent surgery for extraction of his eyeballs. It will take some time for him to get used to being blind, but his jaw is healing slowly and he is now eating soft food on his own.
Verde is truly one of our "miracle rescues", but he still has a long way to go. His rehabilitation will take about two months. Will you help us raise funds so we can continue to help Verde? Donations in any amount are welcome and will be much appreciated. To donate to Verde's medical fund, please see below. Thank you very much!
*****
Donations may be made via PayPal, BPI cash deposit, and GCash.
Via Paypal:
1. Go to: http://www.caraphil.org/mainsite/get-involved/donate/
2. Click on "Donate."
3. Follow the instructions. When asked to review the donation, click on "Add special instructions to CARA" and write "VERDE".
4. E-mail the confirmation receipt to donate@caraphil.org with subject "VERDE".
Via BPI:
Cash deposits may be made to the following account:
CARA Welfare Philippines
BPI Current Account # 3191-0467-05
Please don't forget to e-mail a photo of the deposit slip to donate@caraphil.org with subject "VERDE".
Via GCash:
Our GCash No. is 0915-227-0215.
You may refer to Globe's guide on how to use G-Cash here:http://bit.ly/19lAwjD
For purposes of crosschecking your GCash donations, please email in your cellphone number and the amount you donated via G-Cash to donate@caraphil.org with subject "VERDE". Pls. be assured that we value your privacy and after crosschecking is done, we will not keep a record of your numbers.
Please do not forget to email the confirmation receipt (PayPal) or a photo of the deposit slip (BPI) or your cell # & amount donated (GCash) to donate@caraphil.org with the subject "VERDE".
The PayPal, BPI and GCash accounts are all CARA's. We only need you to send in your receipts/deposit slip/cellphone number to our Treasurer for accounting purposes.
Thank you very much!
#fundraisingfriday #donate #supportCARA #HelpSaveLives
Tags: animal advocacy, Animal Advocacy in the Philippines, animal rescue in the Philippines, compassion to animals, Fundraising Friday, how to donate to help animals, how to help animals in the Philippines, how to support animal welfare in the Philippines, rescued cat