Help us Roof a Woof!
Posted on Wednesday, 26 November 2014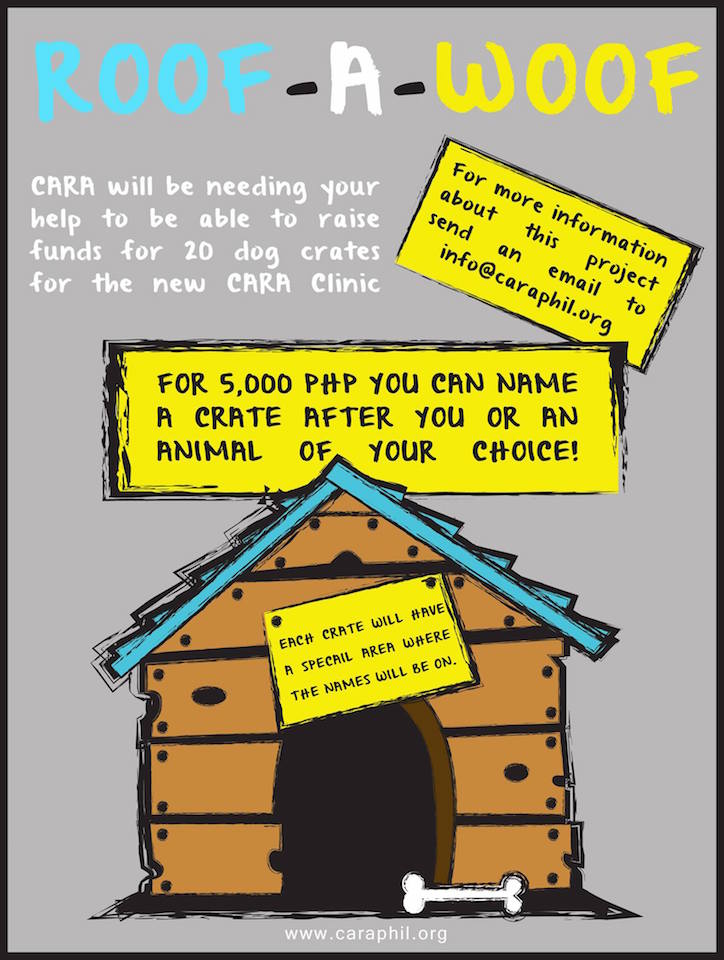 Today we are launching a new fundraising campaign called ROOF-A-WOOF and it's to enable us to move our rescue dogs to the new CARA Clinic. Yes, the NEW CARA Clinic! We're so excited to share the big news: We're moving the CARA Clinic from its present location in Malate, Manila to Mandaluyong City next week! We will post more details about it in the next few days but it's going to be in a bigger space and in a more accessible area (near EDSA Shaw). We're in the midst of major preparations — along with our files and equipment, we're also bringing close to a hundred cats and a couple of dogs.
Right now, the rest of our rescued dogs are still boarding at our partner clinics despite having already undergone treatment and rehabilitation because they have nowhere else to go. The great news is the new CARA Clinic will have space for at least 20 of them! These dogs will move with us to our new place where they can regularly interact with our staff, volunteers, and guests (thus raising their chances of being adopted).
This is where we need your help. We are raising funds for 20 dog crates through the ROOF-A-WOOF project and we are looking for CARA supporters who can sponsor the production of the crates.
Each custom-made crate costs Php5,000. With that amount, you can provide a rescue dog with its own space in our new clinic. As our way of thanking you for your generous donation, we will install a dedication plaque on the crate, with your name/s or that of an animal of your choice. (A group of five people, for 1,000 Pesos each, can sponsor a crate. We can put more than one name onto a plaque.)
If you would like to sponsor a dog crate, you may send your donation via PayPal or BPI cash deposit (details are below) then send us the deposit slip/confirmation email along with the "dedication" text that you'd like included in the plaque.
If you would like to know more about this project, please email info@caraphil.org. Thank you very much for your help. And please share this post to help us find more sponsors. Let's Roof a Woof!
****
Sponsorship via Paypal:
1. Go to: http://www.caraphil.org/mainsite/get-involved/donate/
2. Click on "Donate."
3. Follow the instructions. When asked to review the donation, click on "Add special instructions to CARA" and write "ROOF-A-WOOF".
4. E-mail the confirmation receipt AND the text of the "dedication plaque" to donate@caraphil.org with subject "ROOF-A-WOOF".
Sponsorship via BPI:
Cash deposits may be made to the following account:
CARA Welfare Philippines
BPI Current Account # 3191-0467-05
Please e-mail a photo of the deposit slip AND the text for the "dedication plaque" to donate@caraphil.org with subject "ROOF-A-WOOF".
Tags: animal rescue in the Philippines, animal welfare fundraising campaign, animal welfare organization in the Philippines, how to donate to help animals, how to help animals in the Philippines, how to support animal welfare in the Philippines, Roof A Woof