CARA's rescues have their own Christmas Wish List
Posted on Wednesday, 10 December 2014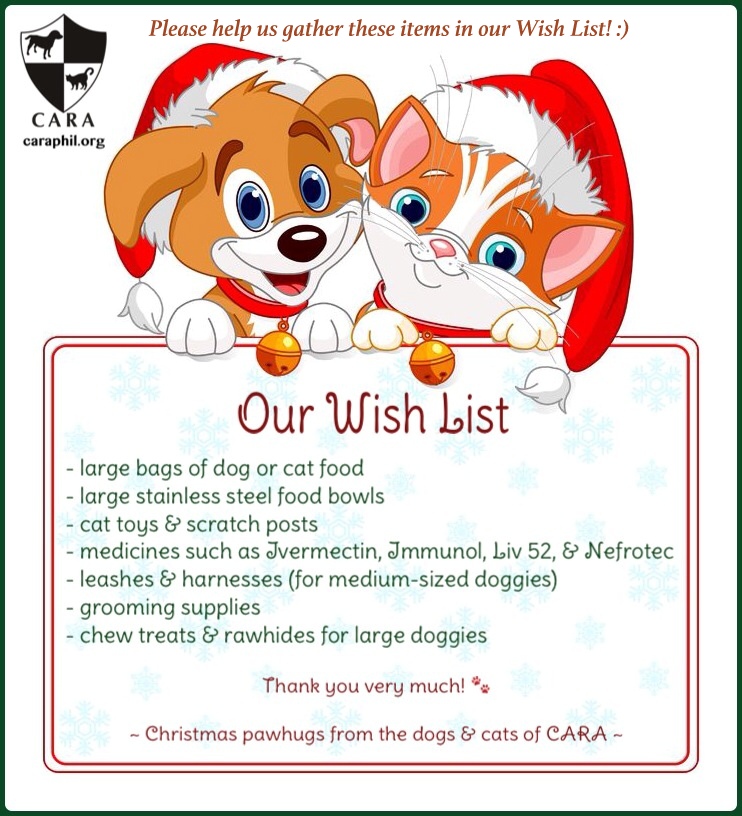 We sometimes get messages from CARA supporters asking what our rescues need and how they can help so we put together a list of items that we always run out of or urgently need. We hope you (with your friends or colleagues) can help us gather these items for our rescues.
They don't have to be brand new. Pre-loved but serviceable items are welcome and so are already-opened packs of edible (unexpired) pet food — our rescues are really easy to please.
The playful cats in our cattery would love to have more toys and scratch posts. Grooming products (shampoo, soap, fur coat brushes) for our dogs are also welcome.
The list also includes some medicines that are urgently needed by our Laguna pit bulls. Before these dogs were rescued, their bodies were regularly pumped full of steroids by the evil dogfighting syndicate. As a result, some of our pitties are now developing liver and kidney problems. The meds will help them fight those ailments.
This Sunday, Dec. 14, during our adoption event "Bring a Rescue Home For Christmas" at Eastwood City, we will set up a corner for our Wish List. If you have any items that you'd like to donate for our rescues, you may drop them off there. Again, they don't have to be brand new, we will be happy with secondhand but serviceable items.
On behalf of our rescues, thank you very much and we hope to see you at our adoption event this Sunday, Dec. 14, 3-8pm at Eastwood City!
***
If you want to donate but cannot drop by the adoption event this Sunday, we will also accept donations at:
KUMON Center
6th Floor Dominion Bldg
833 Arnaiz Avenue (Pasay Road)
Makati
For more information, please email info@caraphil.org. Thanks very much!
Tags: animal rescue in the Philippines, CARA event, CARA Welfare Philippines, compassion to animals, how to help animals in the Philippines, how to support animal welfare in the Philippines