MARLEY, our Throwback Thursday girl, is up for adoption!
Posted on Thursday, 11 December 2014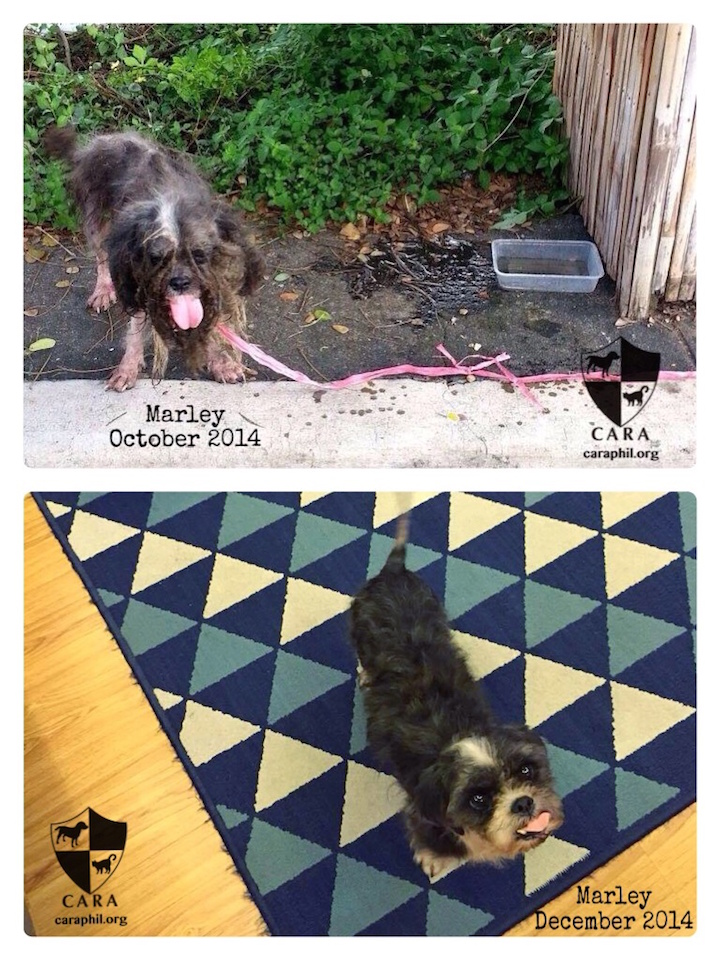 #ThrowbackThursday: Who would have thought that underneath all that matted fur would be this adorable little dog?  MARLEY was rescued in Cavite last October. The starving stray was already emaciated, bald in spots and her remaining fur were encrusted in dirt and dried mud. With your help, she was given the care she needed and … well, here she is! 🙂
Marley, who is currently being fostered by a CARA volunteer, is now AVAILABLE FOR ADOPTION. She is 3-4 years old and is already spayed. She craves attention and LOVES belly rubs. She also has a little snaggletooth that just makes her even cuter. 🙂
Marley is friendly with people. She would be ideal as an only dog, but may also do well with another small dog with a laid-back or mellow personality. She has a very mild thyroid condition (so her adopter must give her supplements) but is otherwise very healthy. She has fully recovered from her ordeal as a stray dog.
Interested in giving this little girl a good home? Please send an email to adoption@caraphil.org.
For information on CARA's adoption process, pls. click on to our Quick Guide. 
If you can't adopt now, please do share this post and help us find a good forever home for little Marley. Thanks! 🙂
Tags: adopt a dog, adopting rescued animals, Animal Advocacy in the Philippines, animal rescue blog, animal rescue in the Philippines, animal welfare group in the Philippines, how to adopt dogs, how to help animals in the Philippines, pet adoption, rescued dog