Bring a Rescue Home for Christmas – A Pet Adoption Event
Posted on Monday, 5 January 2015
Wouldn't Christmas be merrier if you get to spend it with a rescue pet who has been longing for his forever home?
Last 14 December 2014, CARA Philippines held its "Bring a Rescue Home for Christmas" event in Eastwood City, Libis from 3pm-8pm. Adoptable cats and dogs were showcased, fueled with the hope of finally meeting their future families.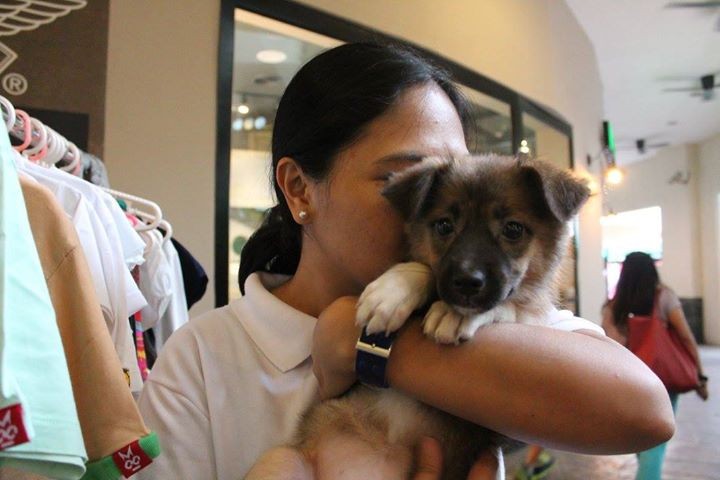 Inday receiving lots of smooches from a CARA volunteer
Inday, one of the adoptables, was present to grace the event. A total charmer and head-turner, Inday is a 6-month old puppy who was born in Pet Project, a veterinary clinic associated with CARA Philippines. This adorable puppy is very welcoming to strangers' hugs and doesn't think twice in giving warm kisses. As one of our fellow CARA volunteers said, "Inday, the goodwill ambassador".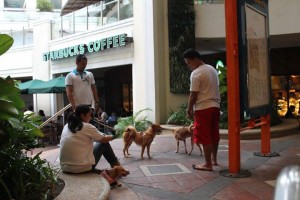 CARA volunteers with the other adoptable doggies: (L-R) Robina, Princess, and Softie
Along with Inday was her mother named Princess, also an adoptable. Blessed with soft-to-touch fur and alluring aura, the mother-daughter duo was a sure hit in attracting passers-by to check out the rest of the rescues. A total of 4 dogs, Robina and Softie also highlighted the adoption event. But of course, let's not purr-get the cats of CARA!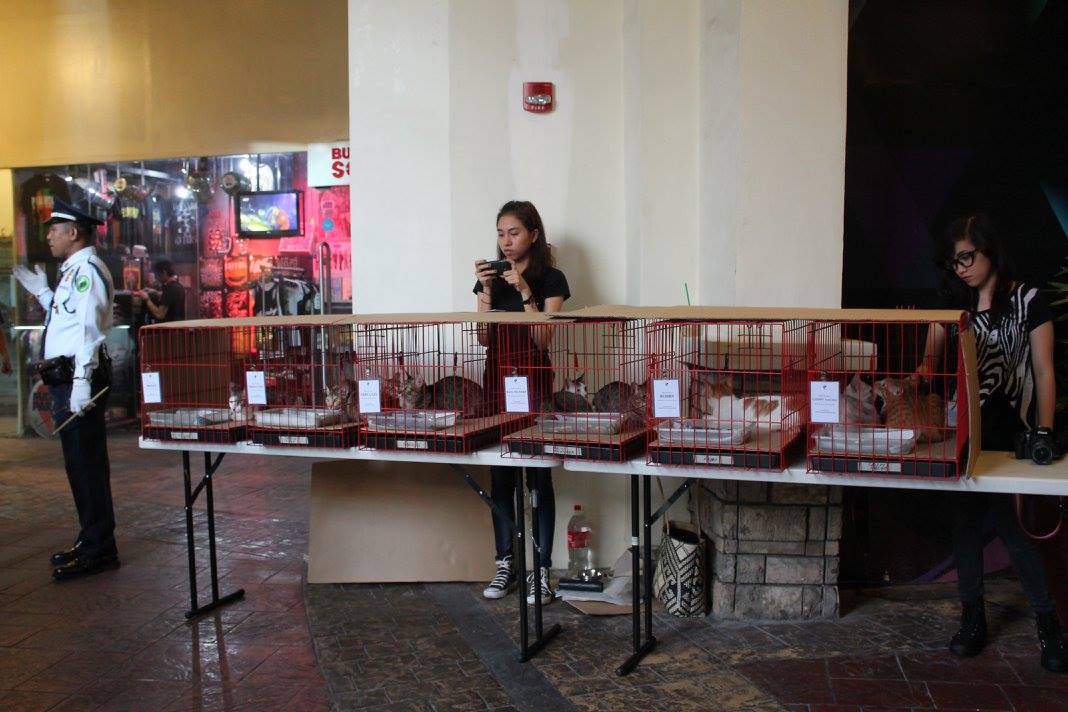 The cats patiently waiting for their own 'persons'
Out of the 10 cats brought to Eastwood, Robby was the most energetic. A 10-month old neutered male, Robby charmed potential adopters/fosterers by being a curious kitty. The slightest unusual sound surely makes Robby puzzled, in a cute way.
Robby, the curious kitty
Before CARA, Robby was a stray. Thankfully, he was given another shot in life and is now healthy and well-taken care of. All he needs now, as well as the other rescues, is someone who will look out for them through life.
And because CARA always needs and appreciates help in any form, the merchandise intended for the organization's great garage sale event was also exhibited. A pool of donated  used and brand new items such as books, well-loved clothes, accessories, music CDs, keychains, wallets, and even board games were made up for sale, and it was a great joy that people spared some of their time to rummage through the items.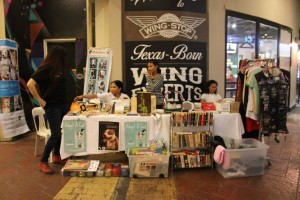 The CARA garage sale corner
For 20 pesos, they can already buy a book. For 50 pesos, they can already own a nice top. Since the prices were pocket-friendly and some items were good finds, the shoppers took advantage of the garage sale and bought items that they may have used as presents for Christmas. In return, the money amassed will surely go a long way in shaping-up the lives of our furry friends in need.
But wait a minute, the help received didn't stop there. Apart from the promising fosterers, adopters, and the shoppers, there were people kind enough to drop off their donations. Hence, the wishlist of the CARA rescue pets was answered.
From CARA Philippines, we thank you:
Mikolas Trading Corporation (Miguel Pocholo Morales, Me-Ann Sarabia, Dennis Ladia, and Marlon Gregorio) for sharing boxes of your company's pet grooming products' Playpets, and Pampered Pooch; Karen Lopez and Jan Paolo Quinol for sacks of dog and cat food, and toys; Alena Sipalay and Lea Austria for harnesses, pet shampoos, and dog food and treats; and Madel Chen and Vincent Chen for food bowls, and dog and cat food.
Want to make the holidays unforgettable for these loving rescues pets? Foster or adopt today! Click here for more info!
Tags: adopt a cat, adopt a dog, animal welfare in the Philippines, CARA activity, CARA event, CARA Welfare Philippines, fundraising for animal welfare