UP Diliman suspends round-up order of stray cats
Posted on Thursday, 16 July 2015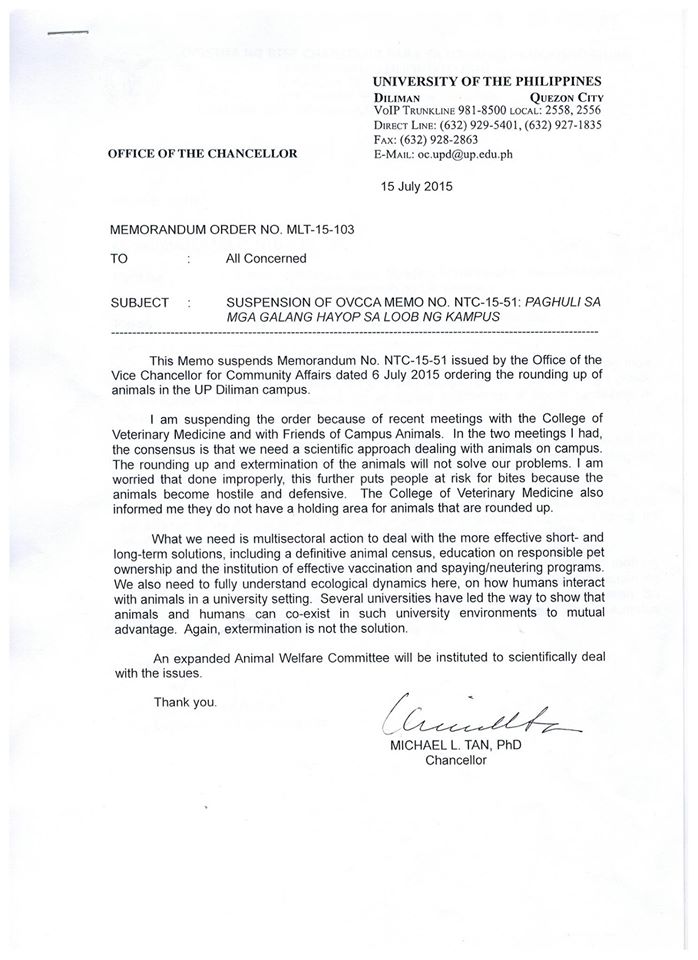 Last Tuesday, we received reports that the UP Diliman Vice Chancellor Oscar Ferrer (OIC, Community Affairs) ordered for all stray cats in the campus to be rounded up. Friends of Campus Animals (FoCA) of UP Diliman together with CARA wrote to Chancellor Michael Tan requesting the implementation of a TNR program with UP and listing down other solutions on controlling the stray cat population around the campus.
Yesterday, we received word that the Chancellor has suspended the round up order of UP Diliman stray cats and that he is open to further exploratory talks on the humane management of small animals in the Diliman campus. There's still a long way to go but this is a huge victory for our furry friends.
Thank you Chancellor Michael Tan for acknowledging that there is a better solution than rounding up all the cats. Thank you as well to Khrysta Rara, FoCA and all of you who helped in spreading the word about this.
Would you like to find out about how to spay or neuter your pets and stray animals in your area? Click here.
Report by Stephanie Lim. Posted by Michelle Baena Ciriacruz.
Tags: animal welfare in the Philippines, CARA, spay and neuter pets, stray animals