Today is World Spay Day! How Can We Help?
Posted on Tuesday, 23 February 2016
We see a stray cat or dog – we pet them and feed them if only to help get them through at least a day of not being hungry and deprived of social interaction.  Oftentimes, we feel helpless that we can't do anything more – due to whatever life situation that prevents us to rescue or adopt more animals, or volunteer or donate to animal welfare organizations.
Don't worry if you can't do these things now, for there is something else you can do so that we, at the very least, stop becoming part of the problem of stray cat and dog overpopulation and animal abuse:  If we SPAY AND NEUTER OUR OWN PETS, it will make our pets healthier and happier, they will no longer breed, we will no longer need to find homes for their offspring, and thus we give a stray animal out there a "slot", a fighting chance to find a home.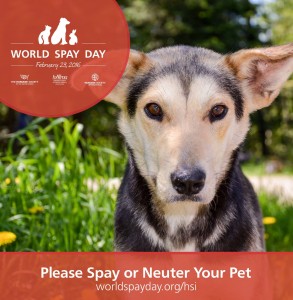 Photo credit: http://www.worldspayday.org/
About World Spay Day
World Spay Day is an international day of action to promote the sterilization of pets, community cats and street dogs as a way to save animals' lives.
The implementation of sustainable spay and neuter programs is the most effective and humane method of addressing dog and cat populations that have exceeded the capacity of the local community to properly care for them.
Please visit this link (and this link!) for more information about the importance of spaying and neutering.
Planning to have a pet or a community cat/dog spayed or neutered?  You can bring them to the CARA clinic to avail of low-cost service.  Click here for details.
‪#‎AdoptDontShop‬ ‪#‎DontBreedOrBuyWhileHomelessDogsAndCatsDie‬ #AdoptAStrayUntilThereAreNone
Tags: ‪#‎AdoptDontShop‬, Animal Advocacy in the Philippines, animal welfare in the Philippines, CARA Welfare Philippines, how to help animals in the Philippines, how to help pets in the Philippines, how to support animal welfare in the Philippines, responsible pet ownership, spay and neuter, trap neuter of cats