Find the Purr-fect kitten for you!
Posted on Friday, 15 April 2016
Elliot, Ellie, Ella and Rocky are up for adoption this coming Sunday at Cat Cafe Manila!
If you have space in your hearts and in your home for rescued kitten/s, we would like to invite you to drop by Cat Cafe Manila on April 17, 2016 (Sunday) from 8:30-11:30 am. We have more than 20 kittens (age ranging from 1-6 months) needing a home and a family to love them as their own.
Cat Cafe Manila is located at 2nd Floor, 189 Maginhawa corner Makadios Street, Quezon City. Some of our adoptable adult cats will also be there in the cafe.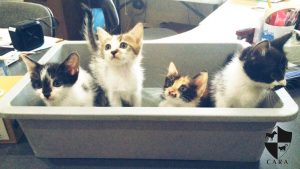 A special surprise is in store for those who will drop by, as Cat Cafe also celebrates their anniversary. 🙂 See you all there!
Tags: animal welfare Philippines, CARA, Cat Adoption, how to adopt a cat, how to adopt a pet, how to adopt kittens, pet adoption, responsible pet ownership