Tell your barangay: Killing or throwing out cats is not effective to curb stray population
Posted on Monday, 2 May 2016
Not only is killing or throwing away cats cruel and illegal it is NOT EFFECTIVE in controlling the population of stray cats in your area.
More than thirty years of documented proof shows that trap-and-kill methods have no lasting effect on reducing feral cat populations. Trap and kill is simply ineffective, expensive and cruel. If all the cats are not caught, then the ones left behind over breed until the former population level is reached.
Even if all the cats are removed, new un-neutered cats move in to take advantage of whatever food source is available. Once there, they breed prolifically, quickly populating a new colony with descendants that are more cautious and more disease-resistant.
This "vacuum effect" is very well-documented. Therefore the trap/kill effort becomes increasingly unproductive in the effort to reduce numbers.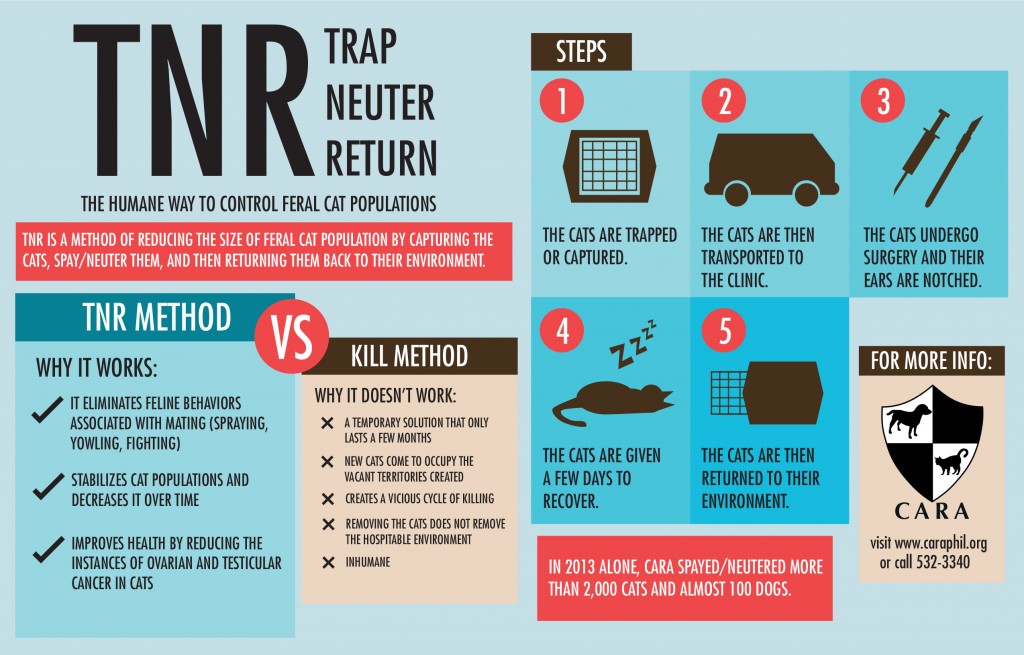 Trap/Neuter/Return, commonly referred to as "TNR," is the only method proven to be humane and effective at controlling the stray cat population. Using this technique, all the stray cats in a colony are trapped, neutered and then returned to their territory.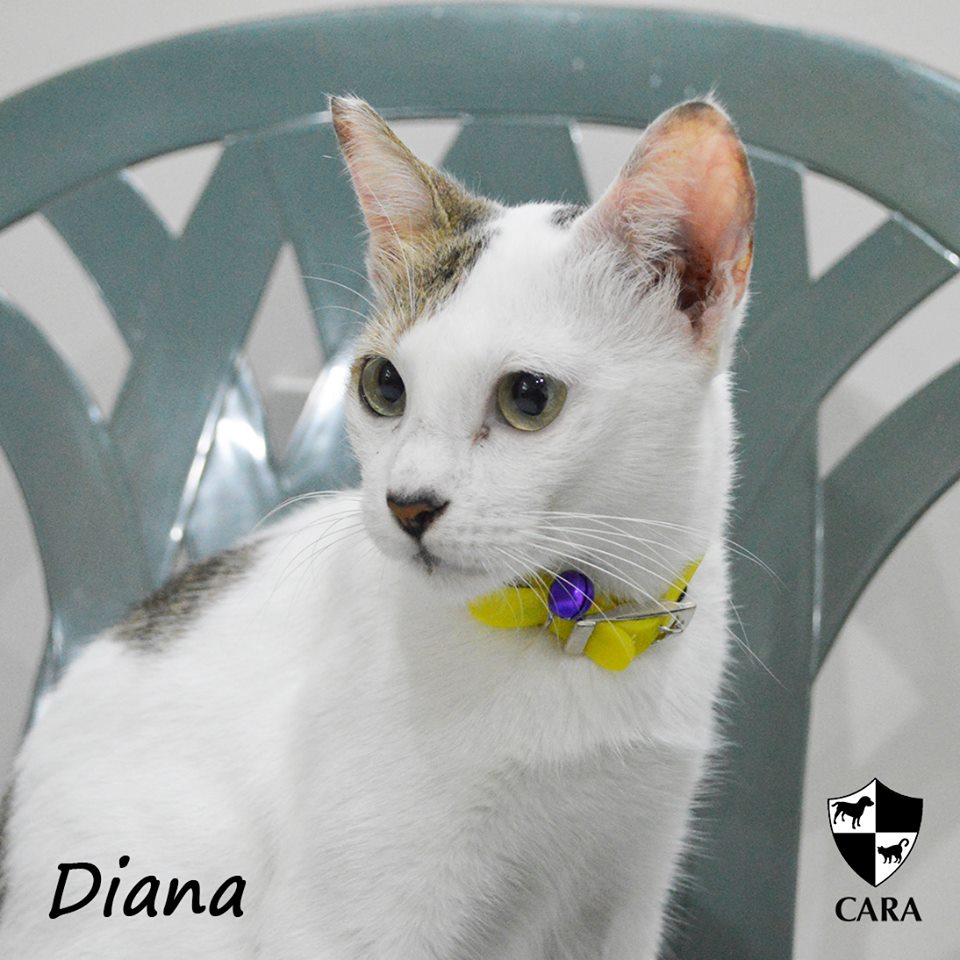 Diana is spayed. She looks like a princess, with beautiful light gray markings. Want to adopt her?
A stray cat management plan, such as the one promoted by CARA, has a dramatic impact on solving neighborhood feral cat problems. The Trap-Neuter-Return (TNR) method has shown to be enormously successful in reducing cat populations, at the same time it also offers the cat's peaceful lives in their territories. In the end, everyone benefits: cats, wildlife, and people. It is effective, responsible and humane. The breeding stops and populations are gradually reduced. Nuisance behaviors associated with mating and breeding, such as calling and fighting, are virtually eliminated.
TNR recognizes there is a balance in our urban society, one that includes stray cats. We would be over run with rats and cockroaches if it weren't for the cats. TNR is a movement that will hopefully continue to grow as more and more people see that it works.
——–
CARA has a clinic in Mandaluyong (near Ortigas Center) that offers low-cost neutering/spaying. Please consider spaying or neutering your pet.
Click this link for the rates.
CARA Clinic
175 Lopez Rizal St. cor. Samat St., Mandaluyong City
+632 5323340 /0919 5790047
clinic@caraphil.org
#adoptdontshop
Reposted from the CARA archive
Tags: ‪#‎AdoptDontShop‬, adopt a cat, adopt a dog, Animal Advocacy in the Philippines, animal rescue blog, Animal Rescue Group., becoming a foster parent to pets, CARA Welfare Philippines, CARAWelfare Philippines, Cat Adoption, compassion to animals, fostering a cat, fostering a dog, how to adopt a cat, how to adopt a dog, how to adopt a pet, how to adopt cats, how to adopt dogs, how to adopt pets, how to foster a pet, how to help animals in the Philippines, how to help pets in the Philippines, how to support animal welfare in the Philippines, How to take care of adopted cats, How to take care of your cat, Neuter Spay of Animals, pet adoption, rescued dog, rescued pet, TNR, trap neuter release, why spay your pets