Fundraising Friday: Panda the Dog
Posted on Friday, 8 July 2016
Yesterday morning, one of our volunteers witnessed a speeding motorcycle hit Panda and rushed her to the nearby vet. She was very pale with low blood pressure due to shock. The vet suspects fracture in one or two legs and she possibly might have pre-existing pyometra. There was also bleeding from her rear area which was diagnosed as prolapsed vagina. Hopefully by today, once she is more stable, we can have her blood tested and her legs x-rayed.
Panda is a female dog with a good disposition despite her condition. We hope that you can help us in treating Panda and providing for the medical care that she needs. Donations in any amount will be greatly appreciated. To donate to her medical fund, please see instructions below.
Thank you very much!
****
Donations may be made via PayPal and BPI bank deposit.
Via Paypal:
1. Go to: http://www.caraphil.org/mainsite/get-involved/donate/
2. Click on "Donate."
3. Follow the instructions. When asked to review the donation, click on "Add special instructions to CARA" and write the name "PANDA"
4. E-mail the confirmation receipt to donate@caraphil.org with subject "PANDA".
Via BPI:
Cash deposits may be made to the following account:
CARA Welfare Philippines
BPI Current Account # 3191-0467-05
Please do not forget to email the confirmation receipt (PayPal) or a photo of the deposit slip (BPI) to donate@caraphil.org with the subject "PANDA".
The PayPal and BPI are all CARA's. We only need you to send in your receipts/deposit slip to our Treasurer for accounting purposes.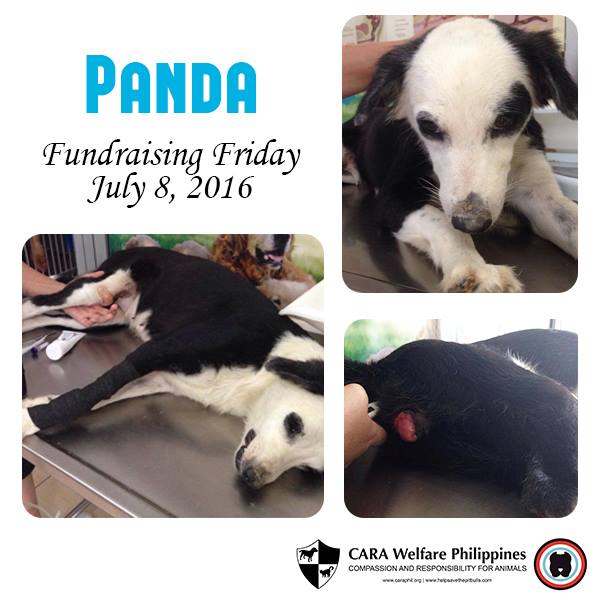 Reported by Stephanie Lim. Posted by Bea Ibanez.
Tags: Fundraising