Rest In Peace, Jaja a.k.a. The Counter Queen
Posted on Wednesday, 31 August 2016
It's time for one of our resident adoptables to say goodbye.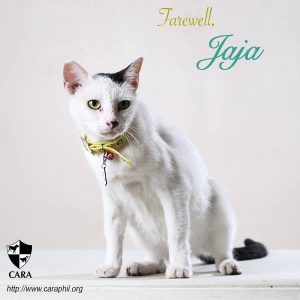 Jaja is one of our sweet senior cats who's always hanging around our kitchen counter area. We also affectionately call her our "counter queen".
Run free Jaja! We'll miss you.
Posted by Stephanie Lim, Reposted by Angelina Fajardo
---
Want to make a difference? Click one of the links below.
Donate | Adopt | Volunteer | Partner
For inspiring pet stories, click here.
Want to share your own pet story? Email it to secretary@caraphil.org
Tags: ‪#‎AdoptDontShop‬, AcrosstheRainbowBridge‬, CARA Welfare Philippine, CARAcats‬, Jaja