Adopt-a-Kitten on Sept 25!
Posted on Monday, 12 September 2016
Our next kitten adoption event is coming up!
If you have space in your hearts and in your home for rescued kitten/s, we would like to invite you to drop by the CARA Clinic on September 25 (Sunday) from 9:00-1:00 pm. We have a lot of kittens (age ranging from 1-6 months) needing a home and a family to love them as their own. 🙂
We are located at 175 Lopez-Rizal corner Samat street, Mandaluyong. Some of our adoptable dogs and adult cats will also be at the clinic.
Please see attached image on how to adopt 🙂
Interested adopters will also receive giveaways from our partner sponsors, so see you all there!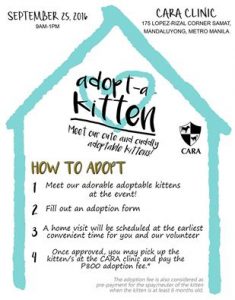 Special thanks to Rhome Yu for the artwork.
Reported by Stephanie Lim. Posted by Alexandra Bichara.
Tags: ‪#‎AdoptDontShop‬, adopt a cat, adopt a dog, adopting rescued animals, animal advocacy, Animal Advocacy in the Philippines, animal welfare group, animal welfare group in the Philippines, animal welfare in the Philippines, animal welfare organization in the Philippines, CARA, CARA Animal Welfare Philippines, CARA event, CARA Welfare Philippines, Cat Adoption, compassion to animals, how to adopt a cat, how to adopt a dog, how to adopt a pet, how to adopt cats, how to adopt dogs, how to adopt pets, how to donate to help animals, how to help animals in the Philippines, how to help pets in the Philippines, how to support animal welfare in the Philippines, pet adoption, pet adoption event, pet adoption in the Philippines, rescued cat, rescued dog, rescued pet