Getting to know Basu
Posted on Tuesday, 27 September 2016
Basu and Rahan were found together in a…yep, you guessed it: a trash can. And while Rahan's been adopted already, this lovely cat is still looking for her furever home.
Basu has all her shots and is a smart and playful kitty. Wait to learn more about her in the upcoming days!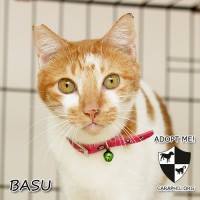 Come visit Basu at the CARA Clinic in Mandaluyong, along with all her fellow cats. 🙂
Want to help? Adopt or foster a rescued pet? Wish to donate? Please click these links:
Want to share your own pet story? Email it to secretary@caraphil.org.
Reported by Bea Ibañez. Posted by Antonette Leachon 
Tags: ‪#‎AdoptDontShop‬, adopt a cat, adopting rescued animals, animal advocacy, animal rescue blog, Animal Rescue Group., animal rescue in the Philippines, animal rescue site, Cat Adoption, compassion to animals, how to adopt cats, how to adopt pets, how to support animal welfare in the Philippines, rescued cat