How My Mother Adopted Two Aspins
Posted on Sunday, 5 March 2017
Ever since I introduced my two adorable puppies to my mother, she grew very fond of dogs and now even treats them as her babies.  It even led to her adopting two other aspins that lived in our area.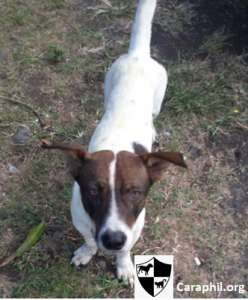 These aspins, Tomato are now being taken care of by our family.  They are free to roam around outside our vicinity but they never stray away too far.  They are always eager to greet members of our family whenever we came home.  Even our other dogs love playing with them!
This just goes to show that it is never too late to start caring for animals, and finding a new source of joy and inspiration. The best part is that practicing compassion is always a two-way relationship – you are able to help others, and at the same time feel the unparalleled happiness that is brought by giving and caring in your heart.
---
If you would like to help CARA educate the country about responsible pet ownership, spaying and neutering, and fostering or adopting rescued pets, you can do so by:
Want to share your own adoption or rescue story? Email it to <secretary@caraphil.org>
Tags: ‪#‎AdoptDontShop‬, adopt an Aspin, animal welfare in the Philippines, how to adopt pets