We need you!
Posted on Sunday, 14 May 2017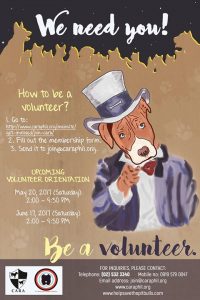 We need YOU! CARA is always in need of committed animal-compassionate volunteers who are willing to give a little bit more of their time, effort and heart for our furry friends.
Please visit this link for more details on how to become a volunteer: <http://www.caraphil.org/mainsite/get-involved/join-cara/…>
See you at our upcoming orientations on May 20 and June 17!
Want to help? Adopt or foster a rescued pet? Wish to donate? Please click these links:
Reported by Stephanie Lim. Posted by Alexandra Bichara.
Tags: CARA, CARAwelfareph, volunteer