Behind The Scenes Photography: Kitten Edition
Posted on Friday, 1 September 2017
Photographing animals in general isn't easy.
Ask any professional photographer about the truth of this statement and they'll all agree, but they will also say that as difficult as it may be, it's a rewarding experience. Even us pet owners who attempted to take photos of their beloved pets would have experienced the difficult task of making them stay put and "pose". But nevertheless, once that perfect click of the camera button captures a clear shot of our pets, the feeling of satisfaction and happiness always overcome the fatigue and exasperation that comes with photographing animals. The photo below is a final product of that.
Last Wednesday, August 23, I got to witness such a tiring activity when we had to take photos of the kittens in the CARA clinic for the upcoming cat and kitten adoption event this September. Che Vienes, renowned pet photographer, lead the session in what would be a triumphant battle against the 10 kittens. Along with Rich Tuason, we had to coddle these playful kittens balancing between feeding them and using all sorts of motion distractions.
We were sweating and covered in fur, but in the end, the photo session was a success. It took us around 2 hours to be able to photograph the 10 kittens. Can you just imagine that!
Che says while each photo sessions with animals vary, there is one rule that pet photographers or photographers in general have to follow, and that is, to be able to handle the current demands of the clients in session. In our case, we have to set up the place and camera equipment for kittens. And how did we do it? See below: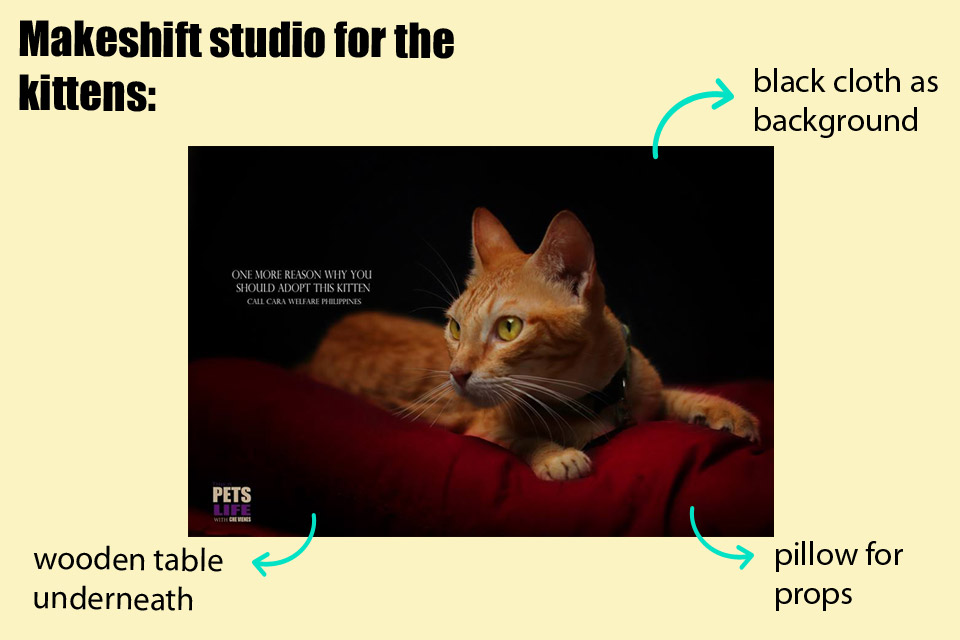 As indicated, we used a black cloth as the background and a small table with a pillow to place the kittens. We also had to use motion distractions to keep them in place and wet food as the last resort when they didn't!
For the camera equipment, Che used a 50mm camera lens and a long light bulb for illumination. Using this set up as well as being familiar with feline temperaments, we were able to capture an enticing portrait of the kittens as adoptables. It was indeed a difficult process, but one that was rewarding.
Watch out for CARA's upcoming  event this  September! See here for event details and photos of the kitten adoptables on Facebook.
---
Want to make a difference? Click one of the links below.
Donate | Adopt | Volunteer | Partner
For inspiring pet stories, click here.
Want to share your own pet story? Email it to secretary@caraphil.org
Tags: ‪#‎AdoptDontShop‬, adopt a kitten, behind the scenes, CARA Welfare Philippines, che vienes, pet photography, September 2017