Paracord Dog Collars
Posted on Wednesday, 18 October 2017
Get a customized paracord collar for your furbaby (available for both cats and dogs!) and help our animals in need!
🙂
Thank you to Triish Romans for this creative fundraiser for CARA Welfare Philippines and Save the Laguna Pit Bulls
<3 Please contact her in the number listed on the image.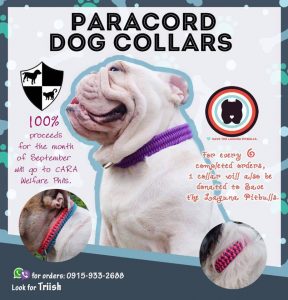 Reposted by Nori Onchengco
---
Want to help?
For inspiring pet stories, click here.
Want to share your own pet story? Email it to secretary@caraphil.org
Tags: CARA, CARAwelfareph, donate, paracord