Are you the Purrfect Vet? Call us!
Posted on Wednesday, 25 April 2018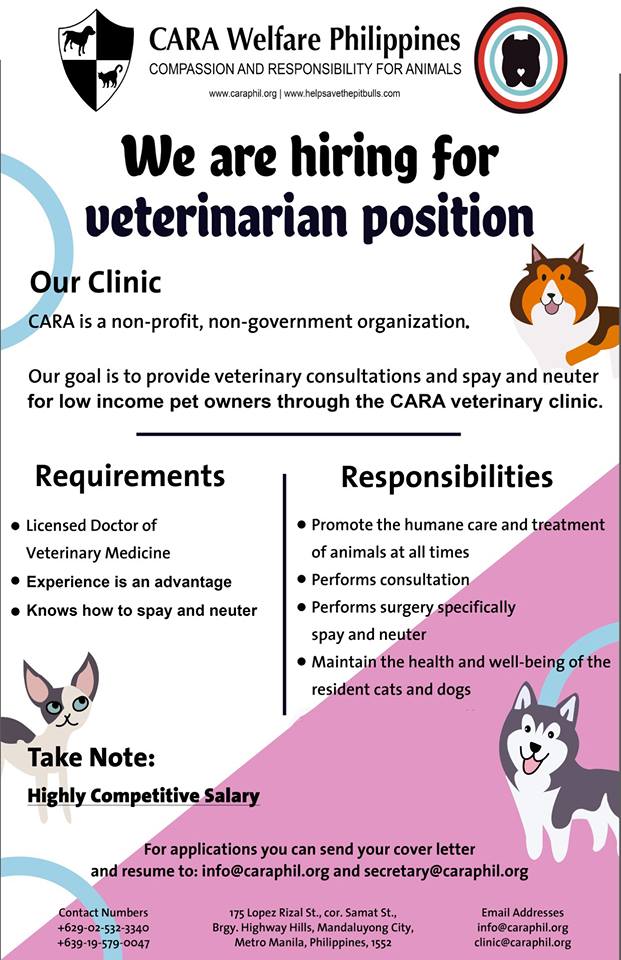 CARA WELFARE PHILIPPINES is searching for the PURRFECT full-time resident veterinarian to start ASAP. Our veterinarian will work at our clinic in Mandaluyong City. The position requires knowledge in surgery for both cats and dogs with focus on the quick spay/neuter method.
In addition, the veterinarian will do consultations and will maintain the health and well-being of our resident cats and dogs. Experience is an advantage. Compassion, punctuality, and good people skills are a must. Salary range is HIGHLY COMPETITIVE.
Email your resume and cover letter to info@caraphil.org and secretary@caraphil.org.
Please share this post and spread the word!
First posted on @carawelfareph
Tags: animal rights group, animal welfare group, CARA Welfare Philippines, Job opening for vet, Job opening for veterinarian, Job opportunity for vet, Job opportunity for veterinarian, vet clinic in Mandaluyong, vet clinic in Manila, volunteer group in manila