Notice to the public: As of April 2018, CARA is still looking for a full-time resident veterinarian. Our clinic is not open for consultations until further notice. Thank you!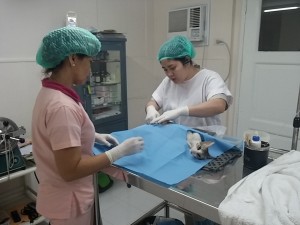 CLINIC HOURS
Surgeries and consultations are done on Mondays to Saturdays.
Monday to Saturdays: 8:00 am to 5:00 pm
Please call to make an appointment: 02-532-3340 or 0919-5790047
CLINIC RATES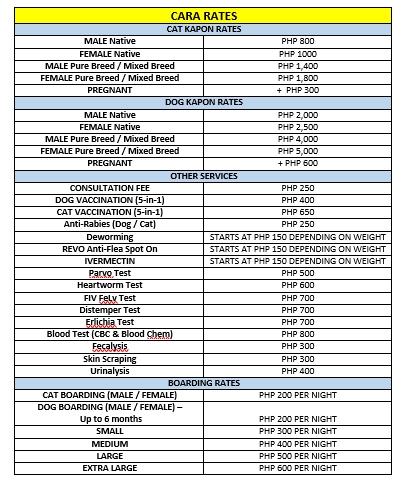 *All spay and neuter operations include complimentary ear cleaning and nail trimming.
*Does not include the pre-anesthetic blood test 
SPAYING/NEUTERING
Spaying and neutering carry the risks normally associated with general anesthesia and surgery. Although the spay surgery is very routine, it is still a major abdominal operation for the females. Therefore the cat or dog must be healthy, well fed and with no signs of illness.
The application form can be downloaded here: CARA Spay & Neuter Application
Please also read the following to prepare for the operation: Pre & Post Operative Care