Notice to the public: Our Pet Boarding is Now Open for Reservations!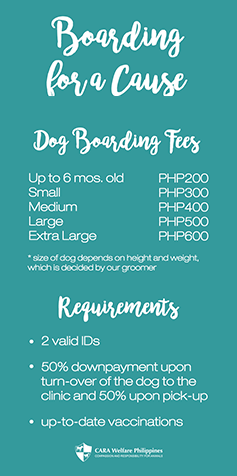 For those of you interested in affordable dog boarding, please consider The CARA Clinic in Mandaluyong.
CARA Clinic
175 Lopez Rizal St. cor. Samat St., Mandaluyong City | Tel 532-3340
All funds earned from dog boarding, will go directly back to the organization, so you can be rest assured that your furbaby's stay at the clinic will help other cats and dogs in need. Plus, we provide roomy cages for dogs, a compassionate staff, and a clean and airy environment. Below are some info on our rates and policies:
Dog Boarding (Up to 6 months) – 200 php per night
Dog Boarding (6 months and up, Small) – 300 php per night
Dog Boarding (6 months and up, Medium) – 400 php per night
Dog Boarding (6 months and up, Large) – 500 php per night
Dog Boarding (6 months and up,  Extra Large) – 600 php per night
(size of dog depends on height and weight, this is decided by our groomer)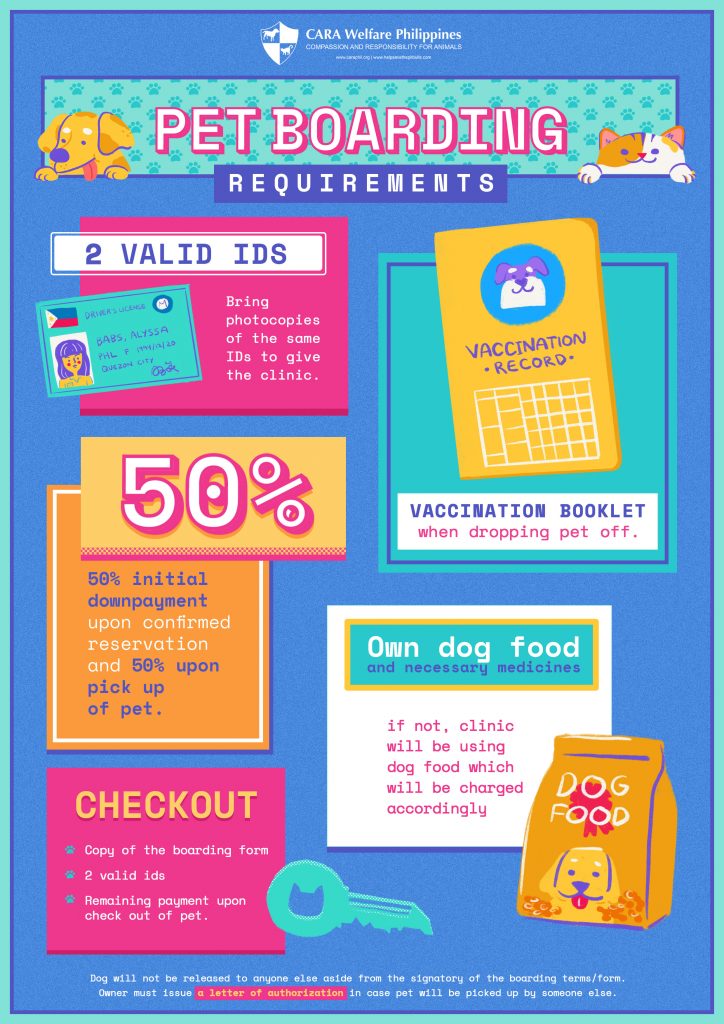 REQUIREMENTS FOR BOARDING:
2 valid ids (and a photocopy of the same ids to be given to clinic)

Vaccination booklet when dropping pet off. (5-in-1 and Anti-Rabies vaccinations must be indicated there.)

50% initial downpayment upon confirmed reservation and 50% upon pick up of pet.

Own dog food and necessary medicines

(if not, clinic will be using dog food which will be charged accordingly)

Copy of the boarding form, 2 valid ids, and the remaining payment upon check out of pet.
*dog will not be released to anyone else aside from the signatory of the boarding terms/form. Owner must issue a letter of authorization in case pet will be picked up by someone else.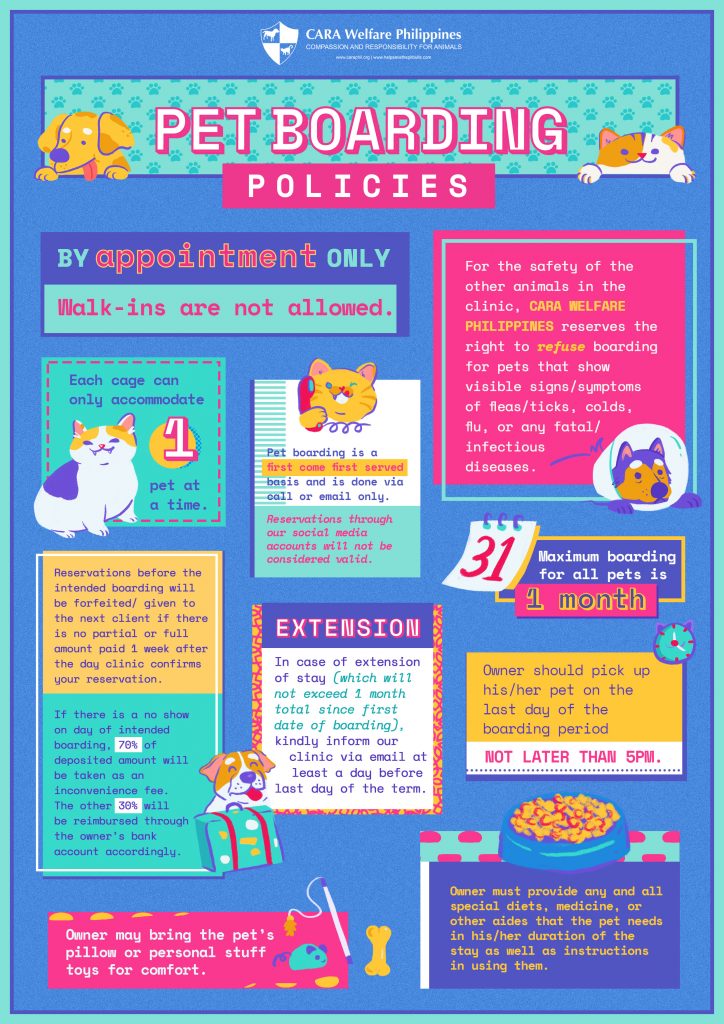 RULES:
By appointment only. Walk-ins are not allowed.

For the safety of the other animals in the clinic, CARA WELFARE PHILIPPINES reserves the right to refuse boarding for pets that show visible signs/symptoms of fleas/ticks, colds, flu, or any fatal/infectious diseases.

Each cage can only accommodate one (1) pet at a time.

Pet boarding is a first come first served basis and is done via call or email

only

.

Reservations through our social media accounts will not be considered valid. 

Maximum boarding for all pets is

1 month

.

Reservations before the intended boarding will be forfeited/given to the next client if there is no partial or full amount paid

1 week

after the day clinic confirms your reservation. If there is a no show on day of intended boarding, 70% of deposited amount will be taken as an inconvenience fee. The other 30% will be reimbursed through the owner's bank account accordingly. (Email deposit slip to clinic@caraphil.org)

Owner should pick up his/her pet on the last day of the boarding period

not later than 5pm

.

In case of extension of stay (which will not exceed 1 month total since first date of boarding), kindly inform our clinic via email

at least a day before

last day of the term.

Owner must provide any and all special diets, medicine, or other aides that the pet needs in his/her duration of the stay as well as instructions in using them.

Owner may bring the pet's pillow or personal stuff toys for comfort.
How to Reserve:
Call us via landline or email to clinic@caraphil.org
State your name, the name of your dog, and the boarding dates.
Wait for a confirmation email from our clinic admin.
Pay 50% amount to our BPI account within 1 week after receiving confirmation email from clinic admin
Email your deposit slip to clinic@caraphil.org
*For more info or to book a slot, please do not hesitate to call our landline at 532-3340. Thanks!
Photos of the Boarding Area: